Multiseed Crackers
A CRUNCHY, SAVOURY SNACK, SUPERB
FOR SCOOPING UP HUMMUS.
MAKES 50 CRACKERS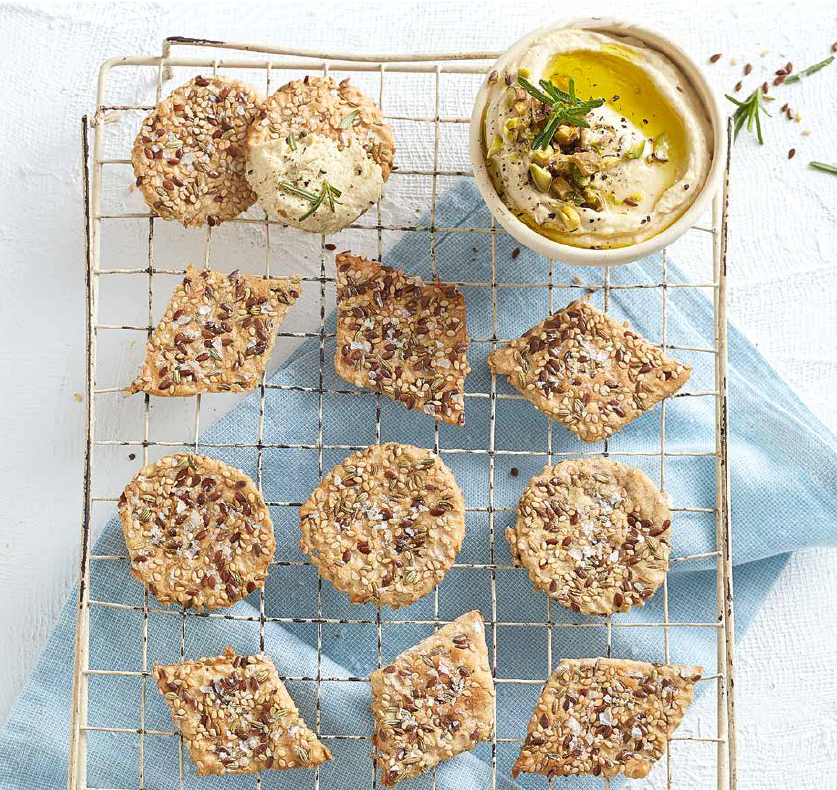 Ingredients
60g / ½ cup Supreme cake fl our
90g / ¾ cup whole wheat fl our
70g Supreme rye fl our
1 ½ teaspoons Selati sugar
1 teaspoon salt
big pinch cayenne pepper
¼ teaspoon dry instant yeast
125ml water
1 ½ tablespoons melted butter
35g sesame seeds
35g poppy seeds
35g fl axseeds
1 tablespoon fennel seeds
1 tablespoon cumin seeds
fl aky sea salt and freshly ground black pepper
---
Cooking Instructions
In a large mixing bowl, mix together all the fl our along with the sugar,
salt, cayenne and yeast. Add the water and melted butter and mix until
the dough comes together in a shaggy mass. Knead the dough with your
hands a few times, either in the bowl or on the counter, until it comes
together and is relatively smooth.
Divide the dough in half, shape each half into a rectangle and place
them on a plate. Cover, and refrigerate for 1-2 hours (the dough can be
refrigerated up to 24 hours in advance).
Pre-heat the oven to 200ºC. Line 2 baking sheets with baking paper.
Remove 1 rectangle of cracker dough from the refrigerator (leave the
other rectangle in; the dough is easier to roll if well-chilled).
Place a good amount (± ¼ cup / 30g) of the seed mixture on a counter.
Sprinkle with sea salt and black pepper and press the dough into the
seeds. Turn the dough over and press the other side of the dough into the
seeds. Use a rolling pin to roll the dough into a square approximately 30 x
30cm, rotating and turning the dough over as you roll, to prevent sticking,
adding more seeds (as well as a sprinkle of salt and pepper) when it
starts to stick. Both sides of the dough should be well-riddled with seeds.
Cut the dough into crackers either using a cookie cutter, or into
rectangles or diamonds with a knife, and place them on the prepared
baking sheet. Gather any scraps and re-roll those to cut out for additional
crackers.
Bake the crackers with a tray on the top to keep them fl at for 15 minutes,
turning the baking sheet midway during baking. Let crackers cool. Roll,
cut, and bake the remaining rectangle of dough the same way you did the
first one.
Once completely cool, store in an airtight container.
---