Malva Mug Pudding With Milk Tart Ice Cream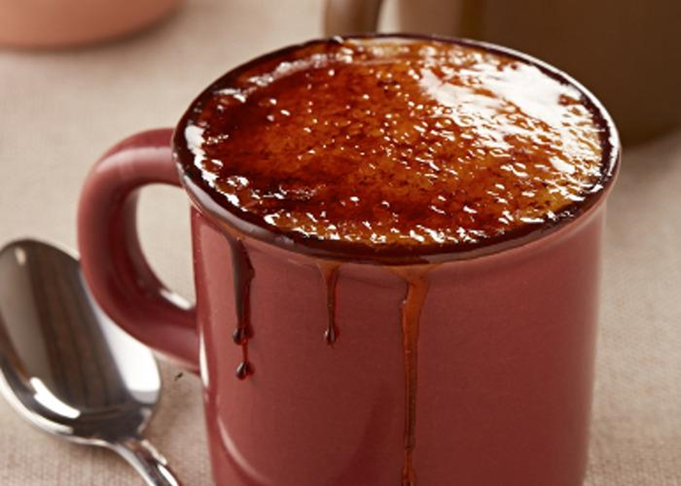 Ingredients
370ml Selati Castor Snow
2 Eggs
350ml Milk
15ml Vinegar
30 ml Butter
30 ml Apricot Jam
500ml Supreme Flour
15ml Bicarbonate of Soda
Pinch Salt
200ml Butter
380ml Selati Plantation Select
200ml Milk
6 egg yolks
120g Selati Castor Snow
15ml almond brandy or amoretto liqueur
500ml cream
2.5ml ground cinnamon
2.5ml ground nutmeg
100g Desiccated coconut
15ml Butter
30ml Selati Castor Snow
---
Cooking Instructions
SPONGE AND SAUCE:
Whisk eggs and Selati sugar together until fluffy.
Heat the milk to melt the butter and jam.
Add the vinegar.
Sift the Supreme flour, bicarb and salt together.
Alternatively, fold the liquids and the dries into the egg mixture.
Half-fill 8 greased (sturdy) mugs with the mixture and bake at 170C until deep golden brown.
Make the sauce by placing all the ingredients into a saucepan and bringing up to the boil.
Remove and keep warm.
Immediately the puddings are removed from the oven, pour the hot sauce over and allow to soak through.
'MILK TART' ICE-CREAM:
Mix the chilled cream and spices together.
Whip to firm peak.
Set aside.
Whisk the egg yolks, castor sugar and almond brandy to the ribbon stage (thick and light) over a double-boiler.
Fold in the cream and pour into a freezer-proof container and freeze for at least 4 hours.
Serve a scoop over the warm malva pudding
COCONUT CRUNCH:
Sprinkle the coconut over a baking tray and scatter the sugar and butter over.
Bake at 150C until golden brown.
Remove and cool.
Serve sprinkled over the ice-cream
---