Coconut Banana Bread With Lime Drizzle
1 Hour
Serves: 1 Loaf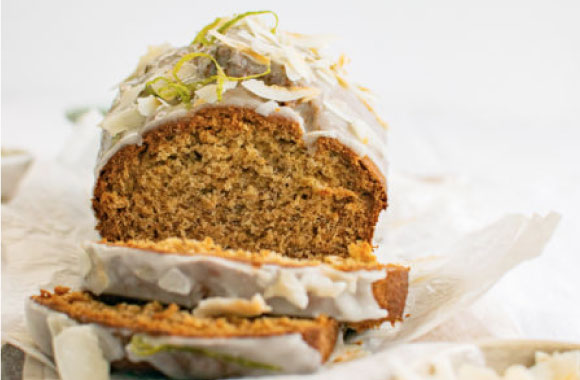 Ingredients
250g / 2 cups Supreme Cake Wheat Flour
¾ teaspoon Bicarbonate of soda
½ teaspoon Salt
200 g / 1 cup Selati Castor sugar
55 g Butter, softened
2 Large eggs
1½ cups Mashed ripe banana (about 3 bananas)
¼ cup Plain low-fat yoghurt
3 teaspoons Dark rum
½ teaspoon Vanilla extract
½ cup Desiccated coconut + extra for sprinkling
1 cup Selati Icing sugar
30 ml Fresh lime or lemon juice
---
Cooking Instructions
Pre-heat oven to 180°C.
Combine Supreme flour, bicarb and salt, stirring with a whisk.
Place Selati castor sugar and butter in a large bowl; beat with a mixture at medium speed until well blended.
Add eggs 1 at a time, beating well after each addition.
Add banana, yoghurt, rum and vanilla, beating until blended.
Add Supreme flour mixture and beat at low speed just until moist.
Stir in ½ cup coconut. Spoon batter into a 23 x 5 cm loaf pan coated with cooking spray and sprinkle with 1 tablespoon coconut.
Bake at 180°C for 1 hour or until wooden toothpick inserted in centre comes out clean. Cool in a pan for 10 minutes on a wire rack. Remove from pan.
Combine Selati icing sugar and juice, stirring with a whisk. Drizzle over warm bread. Cool completely on wire rack.
---