Choux Au Craquelin
DAZZLE YOUR GUESTS WITH A TOUCH OF
SPARKLING GOLD LEAF AND DUST.
MAKES 12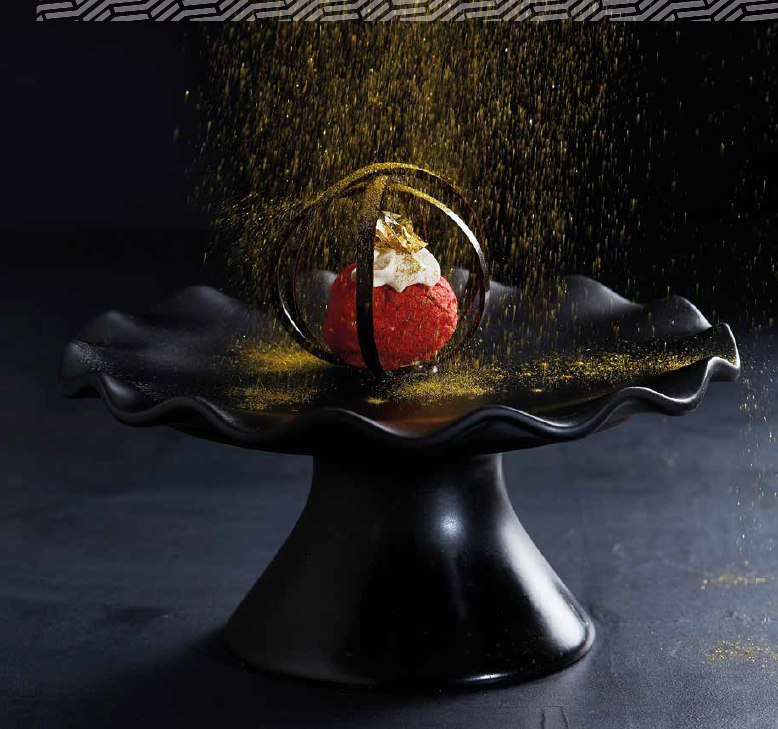 Ingredients
Choux Pastry:
110g Supreme cake flour
80g salted butter (cut into small blocks)
250ml / 1 cup water
3 extra-large eggs (lightly beaten)
Filling:
1 vanilla pod (split)
250ml cream
120g crème fraîche
40g Selati icing sugar
Craquelin:
105g Supreme cake fl our
100g Selati brown sugar
80g butter
Red gel food colouring
Gold leaf
Gold dust (for sprinkling)
200g 70% dark chocolate (melted & tempered)
---
Cooking Instructions
Start by making the craquelin: Combine the ingredients together to form
a soft dough. Roll out the craquelin between 2 pieces of cling flim to 2mm
thick. Transfer to a baking tray and refrigerate for 30 minutes.
To make the choux: Sift the fl our and salt together. Heat the butter and water
until just melted then bring to a rolling boil. Immediately remove from the
heat and add all the fl our at once. Mix until a smooth dough forms, place
back on the heat and cook for about 1 minute or until the pastry pulls away
from the sides of the pot. Allow to cool until lukewarm. Beat the eggs into
the pastry a little at a time until smooth, shiny and of a piping consistency.
Place the pastry in a piping bag fitted with a large fluted nozzle. Pipe small
blobs of choux about 4cm in diameter onto a lined baking tray.
Use a cooking cutter cut out 5cm discs from the cold craquelin then place
the craquelin discs on top of each choux blob. Bake at 180°C for ± 15-20
minutes or until puffed up and golden. Turn off oven, remove the choux
puffs, pierce the bottom of each with a small sharp knife to allow steam to
escape and immediately return to the oven to dry out for 15 minutes.
Filling: Pre-heat the oven to 180°C. Place the vanilla pod in the oven on a
baking sheet and roast for 5 minutes until fragrant. Place in a blender or
pestle and mortar to form a fine powder. Place the cream, crème fraîche,
sugar and vanilla powder in the bowl of an electric mixer and whisk until
stiff peaks form. Place in a piping bag fitted with a 1cm star nozzle.
To make the chocolate cage: Place the chocolate on the acetate sheet and
drag the comb over the sheet to create long, thin chocolate strips. Once the
chocolate is almost set, wrap it around a large jar to create a 15cm wide
circle. Secure with string or tape until set. Carefully remove the chocolate
from the acetate.
Pipe the vanilla filling inside the choux by inserting the piping nozzle into
the holes made previously. Pipe a swirl of cream on top and decorate with
gold leaf. Arrange the chocolate cage pieces around the choux, 'glueing' the
pieces at the base with melted chocolate.
---