Chocolate Sandwich Cookies
20 Minutes
Serves: 18 Cookies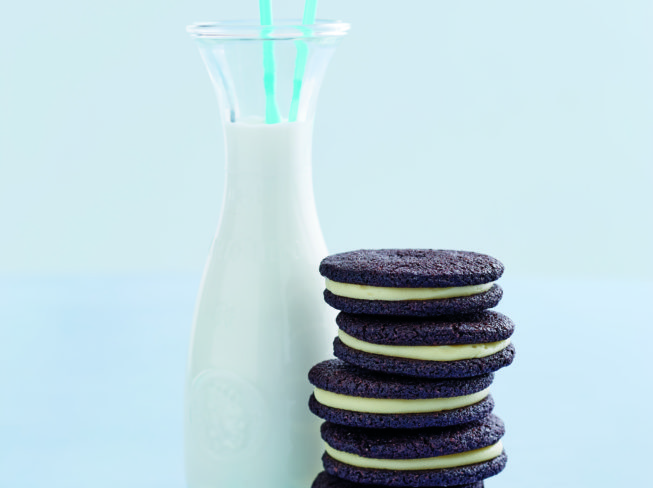 Ingredients
Cookies:
1¼ cups Supreme Cake Wheat Flour
½ cup Unsweetened cocoa
1 teaspoon Bicarbonate of soda
¼ Teaspoon baking powder
Pinch of salt
1½ Cups Selati sugar
150 g Unsalted butter at room temperature
1 Large egg
Filling:
115 g Unsalted butter at room temperature
2 cups Sifted icing sugar
2 teaspoons Vanilla essence
---
Cooking Instructions
Set two racks in the middle of the oven and pre-heat it to 180°C.
In a food processor or bowl of an electric mixer, thoroughly mix all dry ingredients for the cookies.
On low speed, or while pulsing the processor, add the butter and then the egg.
Continue processing or mixing until dough comes together in a mass. It will be a very stiff, very dry dough (this is what it's supposed to look like).
Take rounded teaspoons of batter and place approximately 5cm apart on a baking tray lined with baking paper.
With moistened hands, slightly flatten the dough.
Bake for 9 minutes, rotating once for even baking. The cookies will look puffy, which is correct.
Set baking sheets on a rack to cool and thump them slightly to make the cookies deflate, or press them down with the back of a spoon.
To make the filling:
Place butter in a mixing bowl and, at a low speed, gradually beat in the Selati sugar and vanilla.
Turn the mixer on high and beat for 2 – 3 minutes until filling is light and fluffy.
To assemble the cookies, pipe a blob of cream into the centre of one cookie.
Place another cookie, equal in size to the first, on top of the cream.
Lightly press it, to work the filling evenly to the outsides of the cookie.
---