Biscuit Layer Cake
FOR AN EXTRA DELICATE FINISH, DUST
WITH FREEZE-DRIED RASPBERRY POWDER.
MAKES 6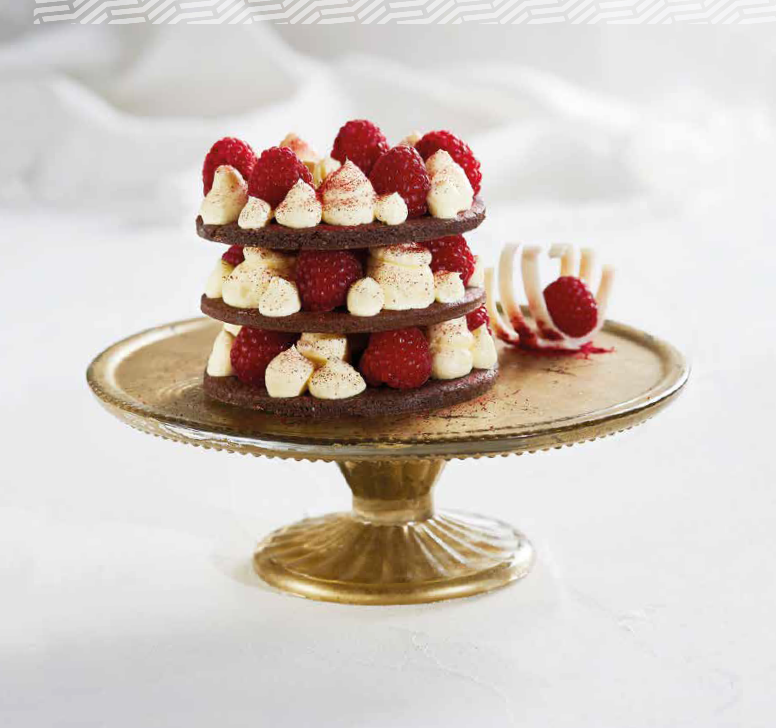 Ingredients
Sweet Pastry:
25g / 60ml cocoa powder
225g / 375ml Supreme cake flour
125g / 125ml salted butter (chilled and cubed)
80g / 155ml Selati icing sugar
3 large egg yolks (refrigerated)
Swiss Meringue Buttercream:
150g egg whites (± 4 eggs)
225g Selati castor sugar
500g unsalted butter (cut into blocks, softened)
1 juicy vanilla pod (seeds scraped but not discarded)
juice of 1/2 lemon
To Decorate:
100g fresh raspberries
Freeze-dried raspberry powder
---
Cooking Instructions
Pastry:
Place the cocoa powder, cake flour, butter and icing sugar in

a food processor and process until the mixture forms a breadcrumb consistency.
With the motor running, add the egg yolks and just enough water so the pastry comes together and forms a soft dough.
Form into a flattened ball, wrap in cling flim and chill in the fridge for at least 30 minutes.
Pre-heat oven to 180°C / 160°C fan. Grease 2 large baking sheets and set aside.
On a lightly floured surface, working with 1 disc of pastry at a time, roll the pastry out onto a large sheet of baking paper 5mm thick, then cut each into a medium-sized circle (12 x 12cm).
Cut out the centre of each circle so you're left with a 2cm border.
Bake the pastry discs in the pre-heated oven for 10-12 minutes.
Allow to cool completely.
Buttercream:
Place the egg whites and sugar in a bowl that fits over 1 of your saucepans.
Fill the bottom of the saucepan with water and bring it to a gentle simmer.
Place the bowl with the egg and sugar over the hot water and stir gently with a whisk (don't whisk to aerate the mixture).
Keep stirring until the mixture reaches 60°C on a thermometer or until the egg is hot to the touch.
Transfer the hot mixture to the bowl of a stand mixer and using the whisk attachment, whip the mixture on high until light and fluffy.
Continue whipping for a good 10 minutes or until the meringue is cool to the touch.
Slowly add the butter 1 block at a time.
Scrape in the vanilla seeds and squeeze in the lemon juice, to taste.
Place the buttercream in a piping bag with a straight nozzle.
To assemble the tart:
Pipe blobs of buttercream on the 1st pastry disc to cover the surface area, then top with the 2nd pastry heart.
Repeat with the remaining pastry layer so you have 3 in total.
Decorate the top with more buttercream then arrange fresh raspberries in-between. Dust with crumbled freeze-dried raspberries.
---