Aunty Vi's Custard Creams
20 Minutes
Serves: About 30 Biscuits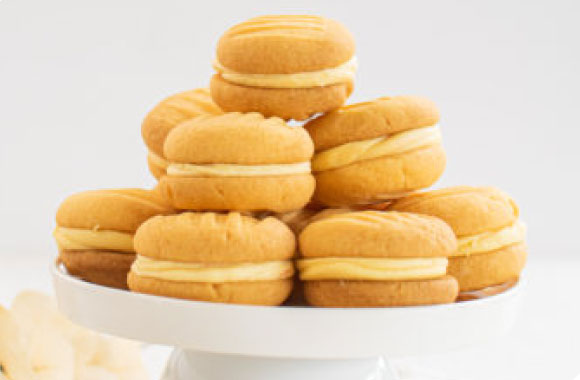 Ingredients
180 g Butter
90 g Selati Icing sugar
180 g Supreme Cake Wheat Flour
60 g Custard powder
5 ml / 1 teaspoon Baking powder
For the filling:
75 g Unsalted butter, softened
125 g Selati Icing sugar
2 teaspoon Custard powder
---
Cooking Instructions
For the biscuits:
Cream butter and Selati icing sugar in an electric mixer.
Add remaining ingredients and pulse until the mixture just comes together.
Tip onto a surface, bring together with your hands, then wrap in cling film and chill for at least 30 minutes or up to 1 day.
Pre-heat oven to 180°C and line two baking trays with baking paper. Divide the dough into equal pieces and roll into balls. Slightly flatten with a fork.
Bake for 13 – 15 minutes until lightly golden. Cool on the trays for 3 minutes, then transfer to a wire rack to cool completely.
Meanwhile, put the softened butter into a large bowl and sift over Selati icing sugar and custard powder. Mix to combine (don't add water, as it needs to be fairly thick). Set aside.
When the biscuits are cool, sandwich together with some of the filling, using a piping bag for a neater finish.
---