Apple Crumble
1 Hour
Serves: 1 Crumble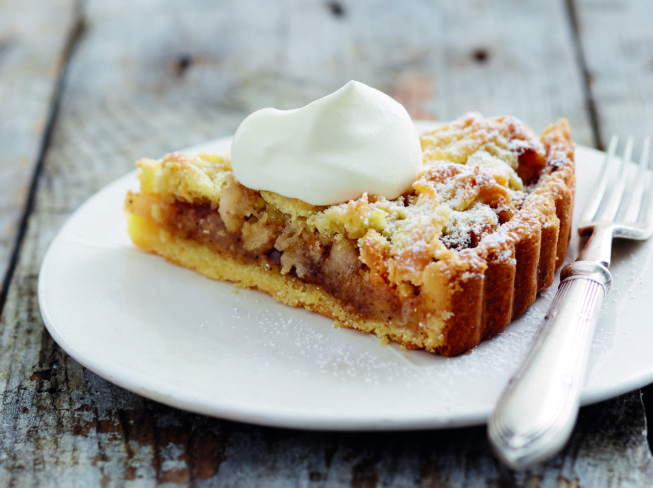 Ingredients
225 g / 1¼ cups Supreme Cake Wheat Flour
50 g / ⅔ cup Selati Icing sugar
Pinch of salt
250 g Butter, cubed and room temperature
1 Egg yolk
250 ml Cold water
1 kg Granny Smith apples, peeled and roughly cubed
100 ml Lemon juice
¼ cup Selati Castor sugar
¼ cup Brown sugar
45 ml Supreme Cake Wheat Flour
5 ml / 1 teaspoon Ground cinnamon
5 ml / 1 teaspoon Ground cloves
5 ml / 1 teaspoon Ground nutmeg
5 ml / 1 teaspoon Ground ginger
5 ml / 1 teaspoon Ground cardamom
50 g Butter, cubed
1 Egg for egg wash
---
Cooking Instructions
Sift Supreme flour, Selati sugar and salt into a large mixing bowl.
Using your fingertips, rub the butter into the flour.
Make a hole in the centre of the flour and mix in the egg yolk.
Slowly add as much of the water as needed to form a slightly wet, elastic dough.
Divide the pastry into two, cover with clingfilm and place in the fridge for ten minutes.
Place the pastry rounds onto a floured surface and roll out to 1 cm thick.
Line a well-greased 25 cm tart tin with the pastry.
Line with foil and top with baking beans. Place into a pre-heated oven of 180°C to bake blind* for 12-15 minutes, until pastry has set and is starting to brown slightly.
Take out of the oven and remove the baking beans. Return to the oven for another 5 minutes.
While waiting for the pastry to cook, toss peeled apples in lemon juice. Add the sugars, flour and ground spices.
Fill the tart case with the apple mixture and grate the remaining half pastry over the top of the crumble. It may grate more easily if it is frozen.
Brush with egg wash and return to the oven to brown the top of the crumble and cook the apples through (around 30 minutes).
*BAKING BLIND: This is done to prevent a soggy crust. The pastry is lined with baking paper and filled with dried beans or rice and then baked prior to filling.
---