RCL FOODS RESULTS MEDIA RELEASE SEPTEMBER 2019
PERFORMANCE HEADLINES
• Groceries delivered another strong result
• Chicken negatively impacted by an oversupplied retail poultry market and higher feed input costs
• Declining local market demand for Sugar due to sugar tax drives adverse sales mix and a significantly lower result
• R762 million impairment of assets in Sugar due to weak local market demand outlook, distorts EPS and ROIC
• Millbake continues to improve
• Higher costs erode margins in Animal Feed and Logistics
• Cash declines due to lower profits, higher working capital investment and debt reduction.
• Conservative gearing position maintained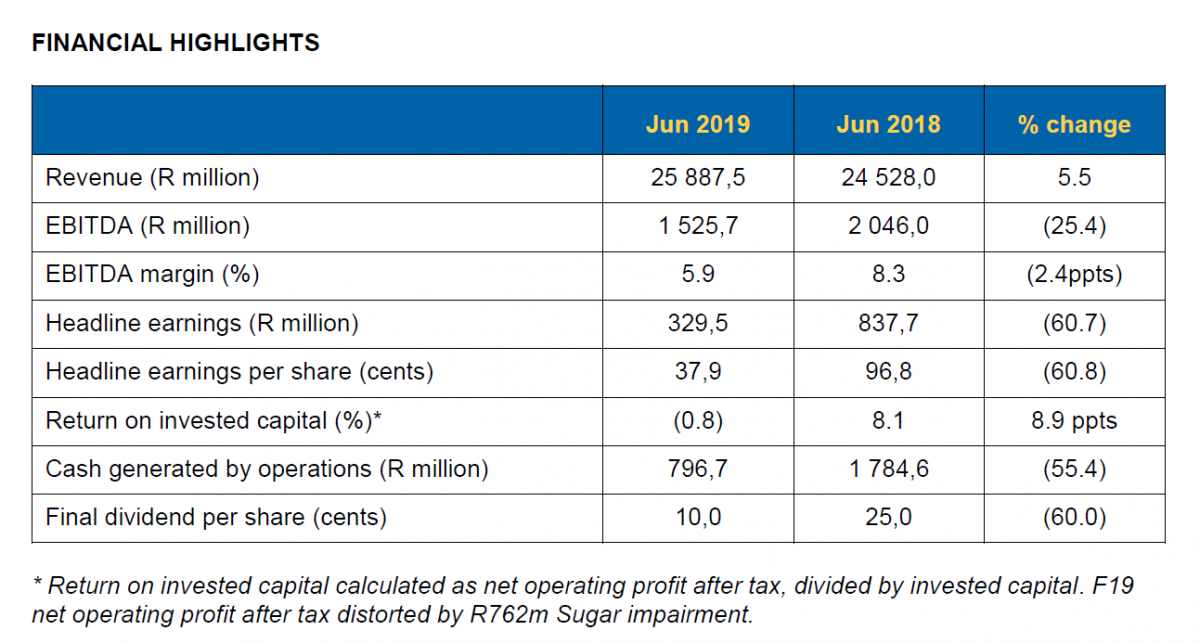 Durban 2 September 2019 – RCL FOODS today reported that headline earnings for the financial year ended June 2019 decreased by 60.7% to R329,5 million (2018: R837,7 million). The decline was largely a result of significant challenges within the Sugar and Chicken categories.

Sugar was particularly distressed with the sugar tax driving a significant reduction in local industry demand. Displaced local market sales were channelled to export markets at significantly lower international prices amidst a global surplus. In the absence of an appropriate tariff, dumped chicken imports remained high which drove market oversupply and softened pricing amidst rising feed costs.
The company said that, despite the difficult trading environment, pleasing gains were made in certain categories, particularly Groceries which is performing exceptionally well, and Millbake which is showing a steady improvement.

Revenue for the financial year was up 5.5% to R25,9 billion (2018: R24,5 billion). EBITDA was down 25.4% to R1 525,7 million (2018: R2 046,0 million) due to the crisis in Sugar and Chicken. EBITDA excluding Sugar and Chicken however was up 7.8%, driven by pleasing growth in Groceries and good progress in Millbake. Cash declined due to lower profits, higher working capital investment and debt reduction, with debt funding down 13.2% to R2.8bn to maintain a conservative gearing position.
"Our goal of achieving a sustainable quality of earnings off a more stable and diversified base remains a key initiative into the future. To this extent, we are pleased with the growth in our Groceries and Millbake categories. Our Sugar and Chicken categories are under immense pressure and require
enhanced focus at an industry level. Whilst continuing to focus on internal business initiatives, we will intensify external stakeholder engagement to ensure that these businesses remain sustainable into the future" said RCL FOODS CEO Miles Dally.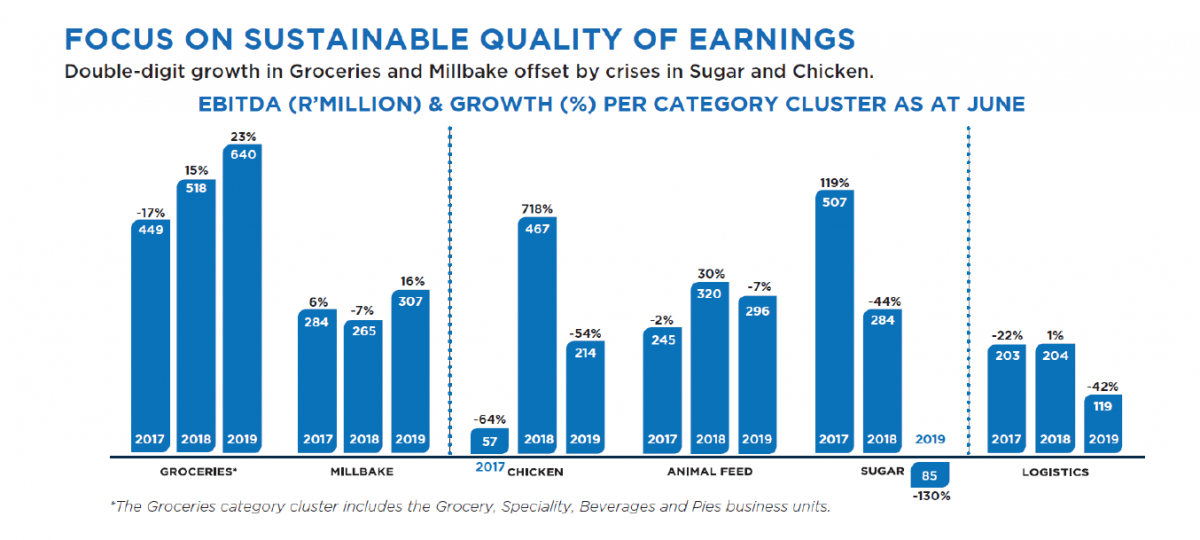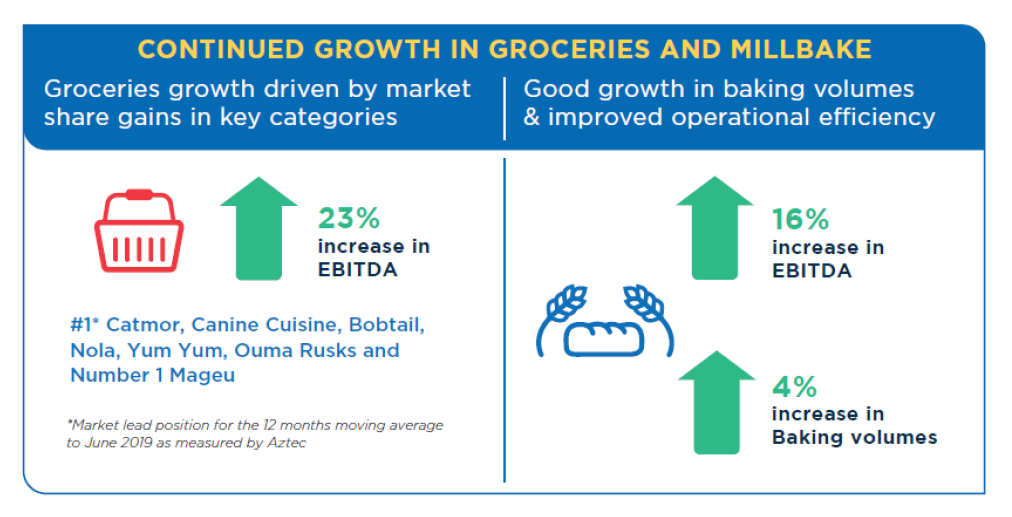 "It is in tough times such as these that we recognise the importance of a diversified portfolio of scale with brands that are well-established and which continue to generate healthy cash flows despite the depressed economic backdrop. The excellent performance within our added-value categories such as Groceries and Millbake in the current period served to partially offset the adverse trading conditions in our core categories" said the company.

Groceries, comprising Grocery, Beverages, Pies and Speciality, delivered a performance ahead of the market with double-digit growth in EBITDA, benefiting from volume and margin increases, and market share gains in several categories. "We have entrenched a strong grocery portfolio with leading brands, which is generating solid results. We continue to grow our brands through consistent investment and innovation, which has sustained and grown market share positions. The performance of Groceries is testament to the success of this focus." said Miles Dally. Millbake continues to improve with good growth in baking volumes and improved operational efficiency translating to EBITDA growth of 15.7%.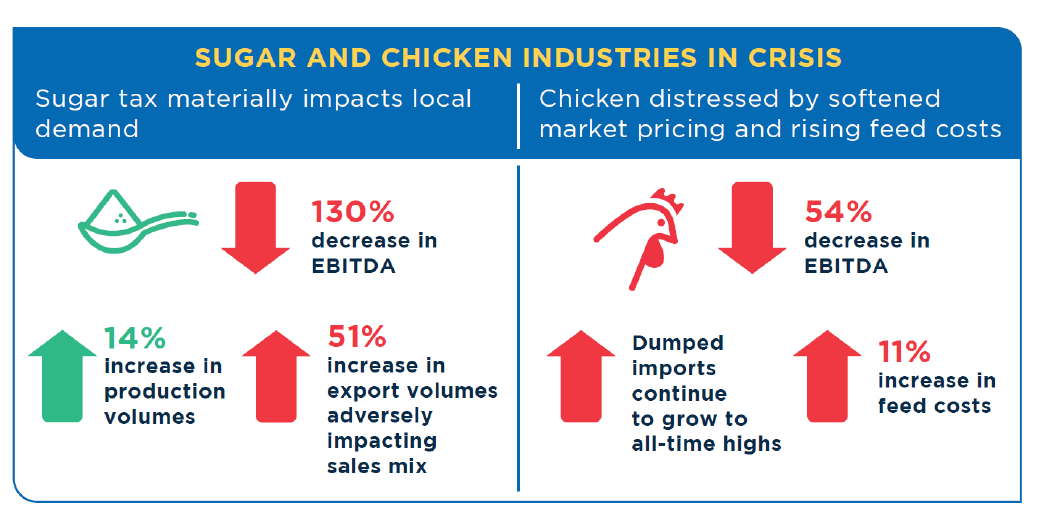 "The significant impact of the sugar tax and unabated growing chicken imports dragged down the performance of the agricultural categories". The company said it is engaging with all stakeholders as well as government to seek industry wide reform to ensure a level playing field for local producers.

Sugar production volumes increased by 14.2% to 679 000 tons for the twelve months to June 2019, but EBITDA was down 129.7% to negative R84,5 million. Reduced local industry driven by the Sugar tax resulted in increased exports at low prices. Market estimates were that the Health Promotion Levy, or sugar tax, had reduced domestic sugar consumption by up to 14% of the annual industry production or more than 300 000 tons per annum.
Chicken's EBITDA for the twelve months to June 2019 disappointingly declined 54.1% to R214,3 million at a margin of 3.0% (2018: R466,8 million at a margin of 6.7%). "Chicken imports have grown in the period and are now at all-time highs, exceeding 350 000 tons per annum (excluding mechanically deboned meat), representing over 25% of the market" the company said.

Animal Feed was adversely impacted by higher commodity input costs (especially molasses) not recovered from the market which resulted in an EBITDA decline of 7.4%. Logistics' EBITDA declined 42.0% to R118.5 million due mainly to higher start-up costs to enable new businesses and significant increases in the fuel price not fully recovered. Logistics took on Siqalo Foods (previously Unilever Spreads, now a 100% subsidiary of Remgro Limited) in the latter half of the year which will assist in mitigation post the Chicken restructure.
"In addition to the Logistics servicing, RCL FOODS took-on the shared services responsibility for the Spreads business of Siqalo Foods. Our single synergised ONE RCL FOODS platform with integrated structures, systems, customer and shared service capability delivered an innovative, alternative business model which allows RCL FOODS to earn a market-related fee for our services while Siqalo Foods benefits from the strategic competencies of RCL FOODS" said the company.

Sustainability initiatives, a key business and social imperative for years, progressed well and has gained further prominence due to the country's current energy and water challenges. Co-generation at sugar plants, waste-to-value energy production and solar power already provide 25% self-sufficiency for the company's operations, with plans to increase this to 50% over the medium term. The success of our Worcester waste-to-value plant has prompted us to invest in a similar waste-to-value plant in Rustenburg in 2019. "Our waste-to-value investment in Rustenburg has progressed well in year, where we expect to provide 65% and 50% respectively of the energy and water requirements of our Chicken processing site and animal feed mill."

RCL FOODS said it is pleased to be considered leaders in climate change mitigation. "We achieved an 'A-' rating for Climate Change management in the 2018 Carbon Disclosure survey, coming first in the SA Food & Beverage sector"
PROSPECTS
We expect trading conditions to remain challenging due to South Africa's poor economic outlook. The upcoming credit ratings reviews are likely to result in an extended period of uncertainty.

Groceries will continue to focus on strong innovation and will drive brand expansions into new categories to grow profitability. We expect the good progress made at Millbake to continue.
The poultry market will remain depressed whilst the market remains oversupplied and as commodity input costs continue to rise. Animal Feed will focus on regaining lost margin externally and restoring profitability. The outlook for Sugar remains challenged with the reduction in industry demand expected to be permanent in nature. The sugar industry has significant structural issues which require full value chain co-operation ranging from growers to millers to government to ensure long-term sustainability.
The Logistics division is well positioned to offer customers a multi-temperature route-to-market supply chain solution. Recent industry consolidation and the new business won during the period under review will assist in the mitigation plan post the Chicken restructure.

RCL FOODS has built a solid platform for growth through strong brands and our strategic imperative now lies in capitalising on this platform to aggressively grow the high performing portions of our portfolio, whilst continuing to drive stakeholder engagement to ensure that Sugar and Chicken remain sustainable into the future. Our cash generative ability and healthy gearing profile places us well to consider strategic opportunities that might be forthcoming in both the South African and African market to drive future business sustainability.