Putting Down Strong Roots for Successful Land Reform
Land plays an important role in our identity as South Africans. For some it is deeply connected to their heritage; for others it represents a brighter future. Interestingly, the African Youth Survey 2020 showed that 59% of young people across Africa feel that their financial fortunes are linked to owning land.[1] At the same time, rising unemployment has resulted in agriculture being identified as a critical area for investment to create jobs. Against the backdrop of the COVID-19 lockdown and predictions of up to 1,8 million additional job losses, the ANC's latest discussion document – "Reconstruction, Growth and Transformation: Building a New, Inclusive Economy" – calls for the proposals of the 2012 National Development Plan to be urgently implemented in order to create one million additional jobs in the agriculture sector by 2030.
Agriculture, together with forestry and fisheries, currently makes up only 2% of South Africa's gross domestic product and provides just 5% of total employment, with less than a million workers. These are almost all employed by the country's 15 000 small, medium and large-scale commercial farmers. Although there are more than 2,2 million small-scale farms, the vast majority of these are subsistence-oriented and provide little by way of income or employment.[2] In order to enable more people to participate meaningfully in the economy – not to mention creating a more just and stable society – there is a clear need for effective and sustainable land reform.
Land reform is an emotive issue that has received much negative press attention, with many failures often quoted. At RCL FOODS, land reform has been embraced as an opportunity for positive transformation in its primary commodity value chains, where several sustainable land reform projects have been established. These range from community-based joint ventures to long-term partnerships with land reform mentees and small-scale growers, all of which have provided workable models for successful land transformation and community economic development. Some highlights of this journey in the sugar space are shared below.
A brief overview of the context Between 2007 and 2012 RCL FOODS sold the majority of its agricultural operations in settlement of land claims in Mpumalanga's Nkomazi region and three joint ventures were formed with the land restitution communities. These community-based joint ventures (CBJVs) lease back the agricultural land assets at market rates from the communities, enabling the continued production of approximately a million tons of cane each year. The benefits for the community include lease income, jobs and study and enterprise development opportunities through RCL FOODS and the CBJVs. In the 2020 financial year, these beneficiary communities received R43 million in lease income, while goods and services to the value of over R77 million were procured from 26 companies owned by individual beneficiaries.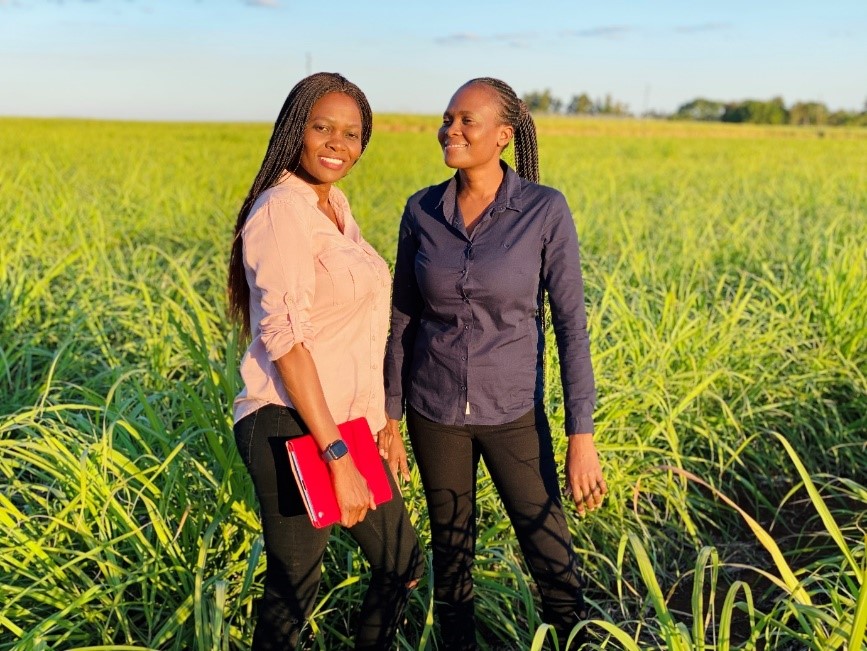 Kate and Carol Repinga, owners and managers of Kaylorac Cane Cutting Services
One of these companies is Kaylorac, a women-owned enterprise which provides cane cutting and other farming services to the joint ventures and local farming community. For twin sisters Kate and Carol Repinga, being able to run a successful services business on the land they were born on means a great deal to them, and they aspire to uplift others in the community through employment and mentorship opportunities.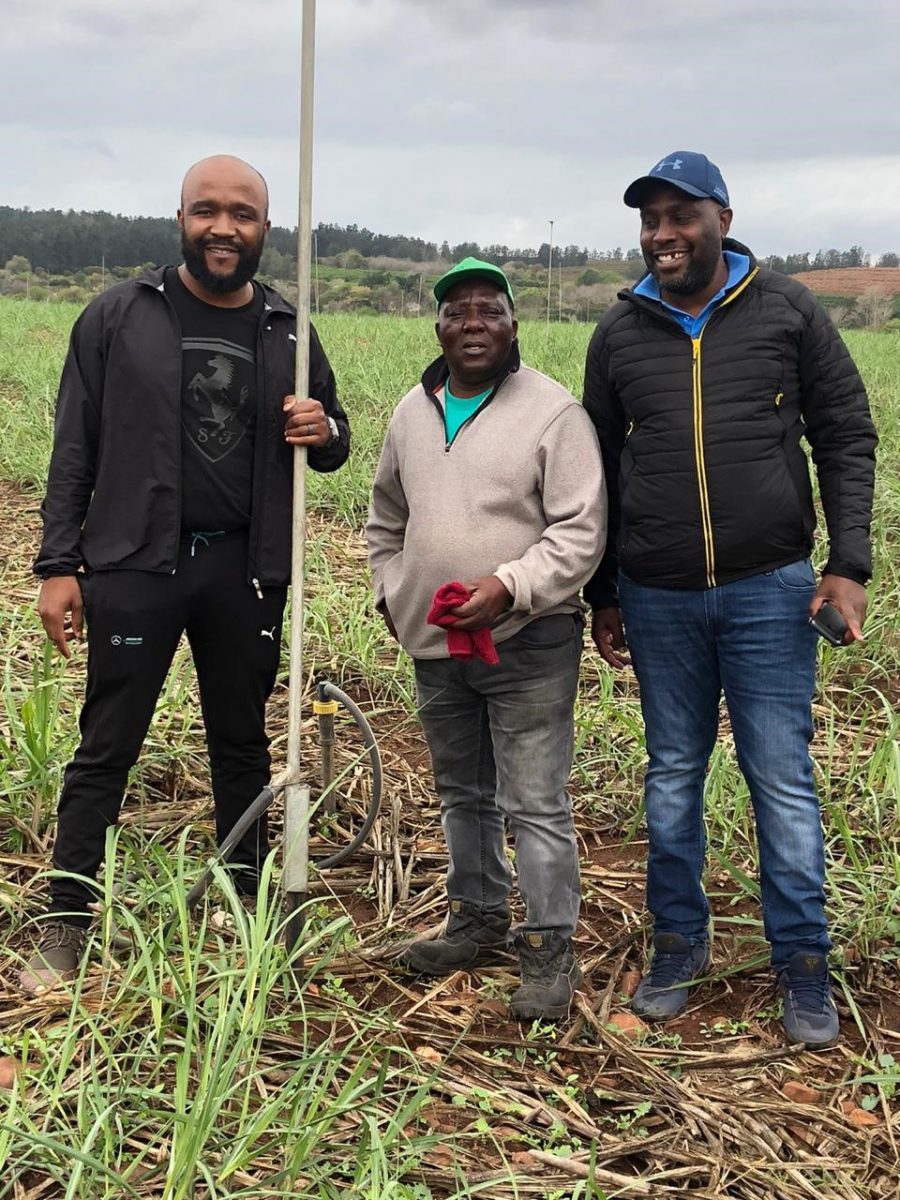 George Sambo (middle), Chairman of Nyubela & Sons Agricultural Farming Cooperative, with Evans Mashego (left), Senior Agribusiness Advisor from the South African Cane Growers' Association, and Lucas Lukhele (right), TSGRO Farm Manager
Long-term partnerships have also been established with 12 land reform beneficiaries farming on private and communal land in the Nkomazi and Pongola regions. One of these is Nyubela & Sons Farming Agricultural Cooperative, a farming enterprise led by George Sambo, which was on the verge of collapse a decade ago. With RCL FOODS appointed as a mentor by the Department of Rural Development and Land Reform (DRDLR), Nyubela & Sons was assisted in putting together a business plan which enabled it to receive funding from the Recapitalisation and Development Programme (RADP), resulting in the revitalisation of 43 hectares of irrigated sugarcane. With a significant reduction in the farm's Land Bank debt facilitated through the mentorship partnership, the thriving farm is now producing 5 000 tons of cane annually.
Commenting on the turnaround, George believes that it is proof that the tripartite partnership between RCL FOODS, the DRDLR and Nyubela & Sons is working. Like "seed in the ground", as he puts it, the partnership has given the farm a second chance to flourish and George is committed to stewarding it well – not just for the sake of his and his family's future, but for the many community businesses that supply the farm with goods and services.
Another success story is the 1 200 small-scale growers who are now producing a combined 600 000 tons of sugarcane per year. Working on small parcels of communally-owned land in the Nkomazi region and lacking collateral to access credit, their sustainability has been greatly enhanced through the establishment of two joint-venture services companies – Akwandze Agricultural Finance (AAF) and TSGRO – in which all 1 200 growers are 50/50 partners with RCL FOODS. AAF was formed in 2006 to provide smallholder farmers with access to credit at reduced interest rates, with only their cane crop being required as security. It also assists the farmers to reinvest in their farms by managing a retention savings scheme on their behalf. TSGRO, established in 2014, provides farming and business support services to help mainly smallholder farmers to maximise their production and returns. It also sets up enterprise development opportunities for these farmers to become contractors. George Sambo is a customer of both ventures, subscribing to TSGRO's full farm management service and accessing capital through AAF (which recently enabled him to expand his farm by a further 10 hectares).
During the last cane season, nearly 1,7 million tons of sugarcane were produced by farmers who were traditionally excluded from the sugar value chain – 32% of RCL FOODS' total supply – and other producers are implementing successful projects of their own. Through well-managed land reform relationships, experience has shown that land productivity can be maintained and additional land can come into production – both vital for the creation of a sustainable, stable, empowered agricultural sector and sustainable economic transformation.
Keys to successful land reform
The success of any land reform initiative depends on:
Relationships built on dialogue, mutual respect and long-term sustainability, which bring parties together around the same goal and facilitate more effective collaboration
Shareholder interests that are well articulated and continuously balanced for sustainability
Financial support to provide affordable capital to support business operations and expansion
Mentorship and technical support in the form of management and technical advice (extension services), as well as competitively priced farming services
Social development initiatives in partnership with other stakeholders to help uplift communities holistically and ensure that vulnerable groups are not left behind
Enterprise and skills development in beneficiary communities to ensure broader economic access, skills transfer and job creation.
With these in place through strong partnerships and mentorship, land reform can help achieve a better future for the agricultural sector and the communities that are its lifeblood, benefiting our economy and restoring a key part of our national heritage.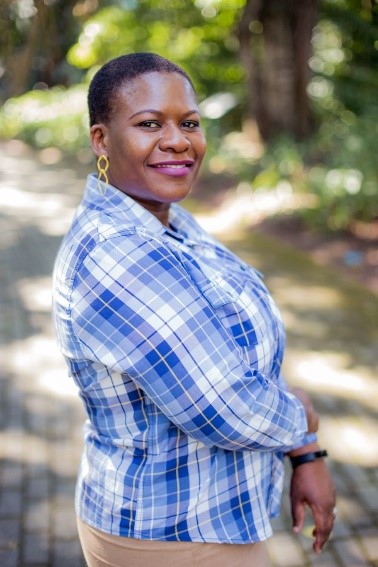 Stella Mthembu is the Chief Executive Officer of Libuyile Farming Services (Pty) Ltd, Mgubho Farming Services (Pty) Ltd and Sivunosetfu (Pty) Ltd, three community-based joint venture (CBJV) companies located in Mpumalanga's Nkomazi sugar milling area. With a professional management team that reports to her, she has been tasked by the Boards of the CBJVs to deliver against shareholders' expectations by providing inspired leadership to the companies through management and delivery of an integrated business strategy that will enable and enhance their sustainability. Stakeholder management lies at the core of her role, and maintaining a level of balance in their respective interests often calls for difficult conversations and bold decisions – especially in a corporate/community business landscape where diverse cultures and ways of working come together for a common goal. A new challenge presented to the CBJVs, like other businesses, has been to navigate the 'new normal' brought forth by the COVID-19 pandemic.
Stella has 18 years of experience working in agriculture and development positions, including as a Deputy Director in the Department of Rural Development and Land Reform, where she focused on implementation of the Recapitalisation and Development Programme (RADP) to holistically revitalise non- and low-producing land reform farms in the Mpumalanga province. She joined RCL FOODS' Sugar business unit as a Land Reform & CSI Manager in 2014, and is currently its Managing Executive.
---