Spinach Pappardelle
ELEGANT AND EASY SERVED WITH
A DELICATE DILL AND ASPARAGUS
CREAM REDUCTION.
SERVES 2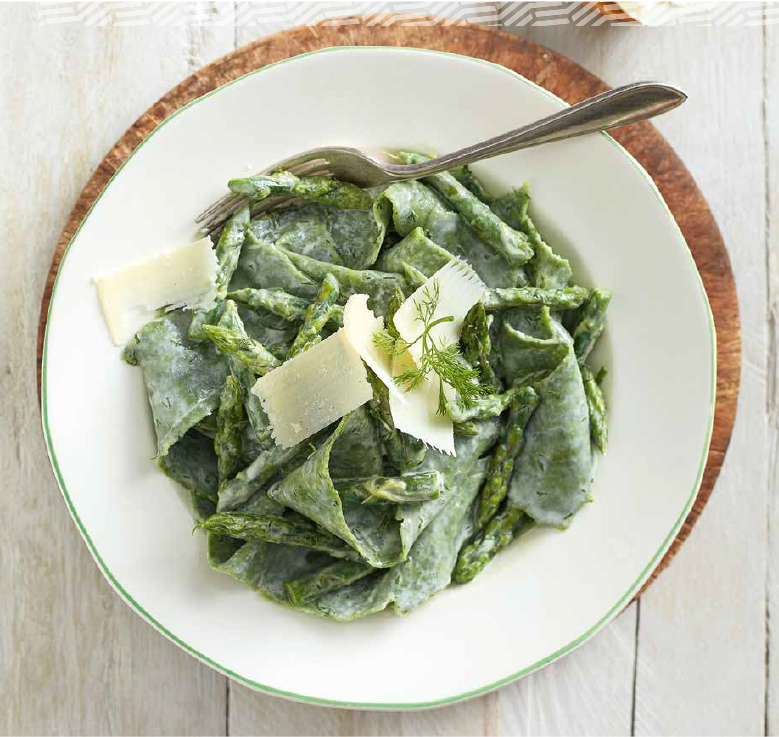 Ingredients
300g packet of baby spinach
120g / 1 cup Supreme cake fl our
1 egg yolk
Sauce:
100g asparagus
15g butter
1 clove of garlic (crushed)
1 cup cream
20g chopped dill
60g / 2 ⁄3 cup parmesan
5ml salt
2ml pepper
5ml lemon juice (optional)
---
Cooking Instructions
Trim the stalks of the baby spinach. Blanch in boiling water for 5 seconds
and then refresh in ice water, squeeze out all of the water and dry on
paper towel.
Place in a food processor and blend until very fine. Add the fl our and
enough egg to form a dough.
Knead pasta dough until smooth.
Roll through a pasta machine many times until the dough becomes
completely green and smooth. By hand cut into pappardelle large strips
(± 2-3cm) wide. Hang to dry slightly.
Cut asparagus heads and blanch in boiling water for 2 minutes – refresh
in ice water.
Melt the butter in a pan, gently sauce the crushed garlic for 1 minute.
Add cream to pan and reduce to ± 150ml.
Bring 2 litres of salted water to the boil. Add pasta and stir continuously
for the first minute. Simmer until pasta is just cooked 'al dente'. Fresh
pasta takes ± 2 minutes, dried pasta ± 10 minutes.
Add the asparagus and dill to the sauce and adjust seasoning with salt /
pepper / lemon juice (optional).
Add pasta and toss thoroughly. Sprinkle with parmesan.
---