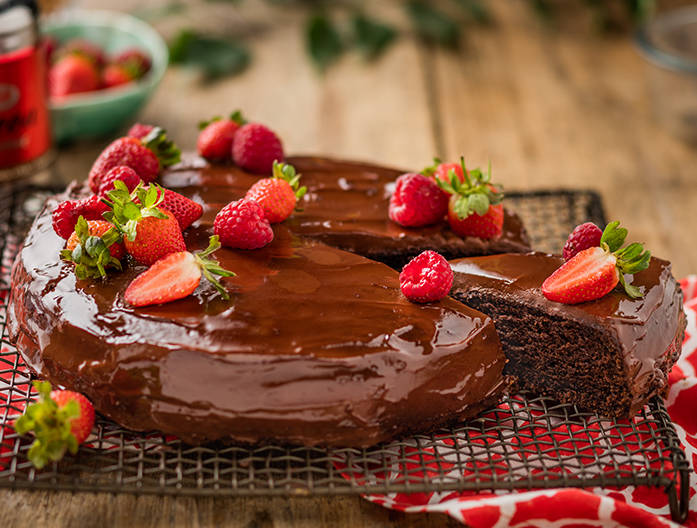 Ingredients
630ml (335g) Supreme cake flour
110ml (40g) cocoa powder
380ml (320g) Selati castor sugar
5ml salt
8ml bicarbonate of soda
300ml Nola Original Mayonnaise
400ml water
5ml vanilla essence
250ml cream
200g dark chocolate, chopped
Chocolate shavings for garnish
---
Cooking Instructions
Preheat oven to 180°C and line a 23cm round baking tin with wax paper.
Sift together the Supreme flour, cocoa powder, Selati castor sugar, salt and bicarbonate of soda.
Give it a good mix to combine.
In a separate bowl, stir together the mayonnaise, water and vanilla essence.
Add the liquid to the sifted ingredients and stir to combine.
Pour into the prepared baking tin.
Bake for 45 minutes, until a cake tester comes out clean.
Cover in tinfoil and leave to cool in the tin (overnight in the fridge is best).
To prepare the ganache, bring the cream to the boil and add the chopped chocolate.
Stir until smooth and leave to cool.
Pour over the cake. It's easiest to do this by placing the cake on a wire rack, so the excess can drip off.
Sprinkle over the chocolate shavings and enjoy.
---