Prawn Potstickers
SERVED WITH A TART AND TANGY
PONZU DIPPING SAUCE.
MAKES 30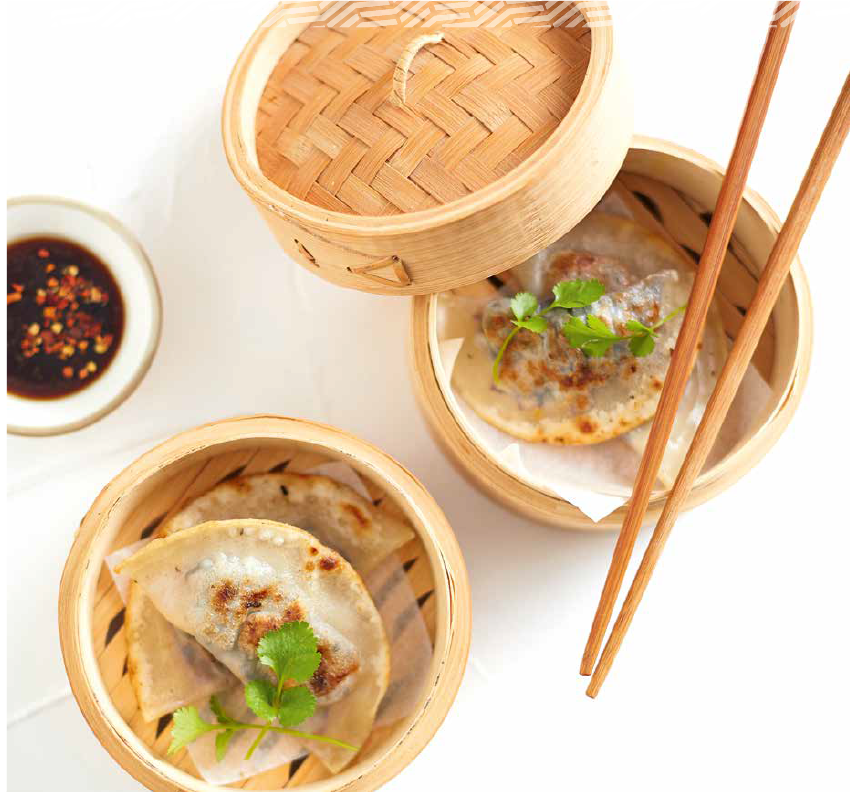 Ingredients
Gyoza Pastry:
240g / 2 cups Supreme cake fl our
150ml water (just boiled)
½ teaspoon salt
cornstarch (for dusting)
Gyoza Filling:
400g cooked prawns (chopped)
100g cabbage (very finely chopped)
1 teaspoon sesame oil
1 tablespoon soy sauce
1cm piece fresh ginger (grated)
1 garlic clove (crushed)
1 tablespoon vegetable oil
100ml water
100ml ponzu
---
Cooking Instructions
Mix the sea salt with the just boiled water until fully dissolved. Add it with
the fl our to your kitchen aid machine and knead (using the dough hook)
for 10 minutes, until you have a smooth dough.
Form 2 rolls with your hands, wrap in cling film and let rest for 30 minutes
(up to 1 day) in your fridge.
Sprinkle cornstarch on your working area and roll out the dough using a
rolling pin or pasta maker to 2mm thick.
Cut out 8cm circles using a cookie cutter (use a reversed drinking glass
if you don't have a round cookie cutter). Sprinkle more cornstarch on the
wrappers before you stack them.
Knead the dough scraps together and repeat until no dough is left.
Refrigerate the wrappers in cling film for up to 1 day.
For the dumplings, mix the prawns, cabbage, sesame oil, soy, ginger and
garlic together in a bowl.
To assemble the dumplings, hold a gyoza wrapper in the palm of your
hand and add 1 teaspoon of the fi lling mixture. Wet the edges with a little
water and seal the dumpling, pinching along the edges to create a fan
shape. Repeat the process until all of the fi lling mixture has been used up
(± 30 dumplings).
Heat the oil in a large, lidded frying pan and fry the dumplings for 1-2
minutes, or until crisp (do this in batches if necessary).
Carefully pour in the water (caution: the water may spit when added to
the hot oil).
Reduce the heat, cover the pan with a lid and continue to cook the
dumplings for 5-6 minutes, or until soft and easy to remove from the pan.
---