Panko Fish Cakes
SERVED WITH A DELICATE CAPER
AND WATERCRESS SALAD.
MAKES 8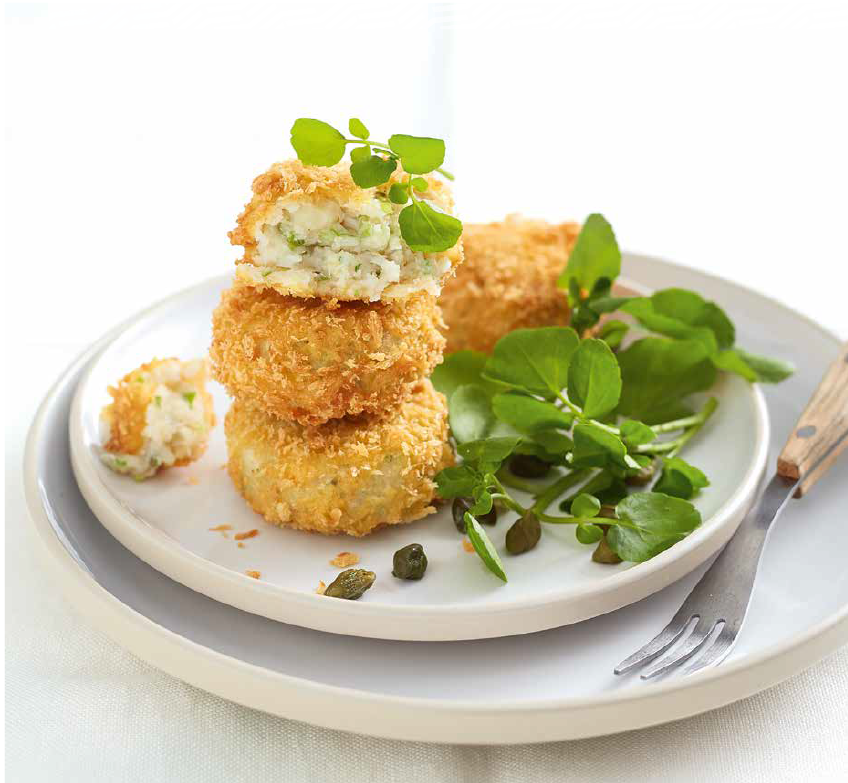 Ingredients
450g potatoes
450g skinless hake
1 bunch spring onions
3 tablespoons Supreme cake fl our
1 egg
100g panko bread crumbs
2 litres vegetable oil
1 bag watercress
handful of capers (rinsed)
Vinaigrette:
1 teaspoon Dijon mustard
1 teaspoon honey
2 teaspoons lemon juice
1 teaspoon white wine vinegar
3 tablespoons olive oil
---
Cooking Instructions
Put the potatoes in a pan of cold water, bring to the boil and cook for
20 minutes or until tender. Remove and allow to steam-dry in a colander.
Add the fish to the water and simmer for 5 minutes until it is just cooked
through at the thickest part.
Mash the potatoes and stir in the spring onions and some seasoning.
Drain the hake, then flake it into the mash. Gently mix everything together
and leave to cool.
Divide the fi sh mixture into 8 parts. Shape 1 fi sh cake at a time, moulding
it into a ball. Repeat with the remaining fi sh, then freeze for 15 minutes.
Using 3 shallow bowls, add the fl our to 1; put the egg and reserved egg
white in another, and the breadcrumbs in the third. Beat the eggs with
some seasoning. Thoroughly coat the fi sh cakes fi rst in the fl our, then the
egg, then the breadcrumbs (repeat the egg and breadcrumbs step for a
thicker coating).
When ready to cook, heat the oil to 180ºC in a large, deep saucepan
(or use a deep fat fryer) and the oven to 190ºC / 170ºC fan. Fry the fi sh
cakes for 7 minutes, turning halfway, until crisp. Drain on kitchen paper,
transfer to a baking sheet and bake for 5 minutes to warm through.
Place all the vinaigrette ingredients in a jar and shake.
Toss the watercress and capers in the dressing and serve on the side with
the fi sh cakes.
---