Moroccan Lamb Pie
DON'T OVERWORK YOUR PASTRY WHEN
KNEADING, YOU WANT A STREAKY EFFECT
OF BUTTER MARBLING THROUGHOUT.
MAKES 1 PIE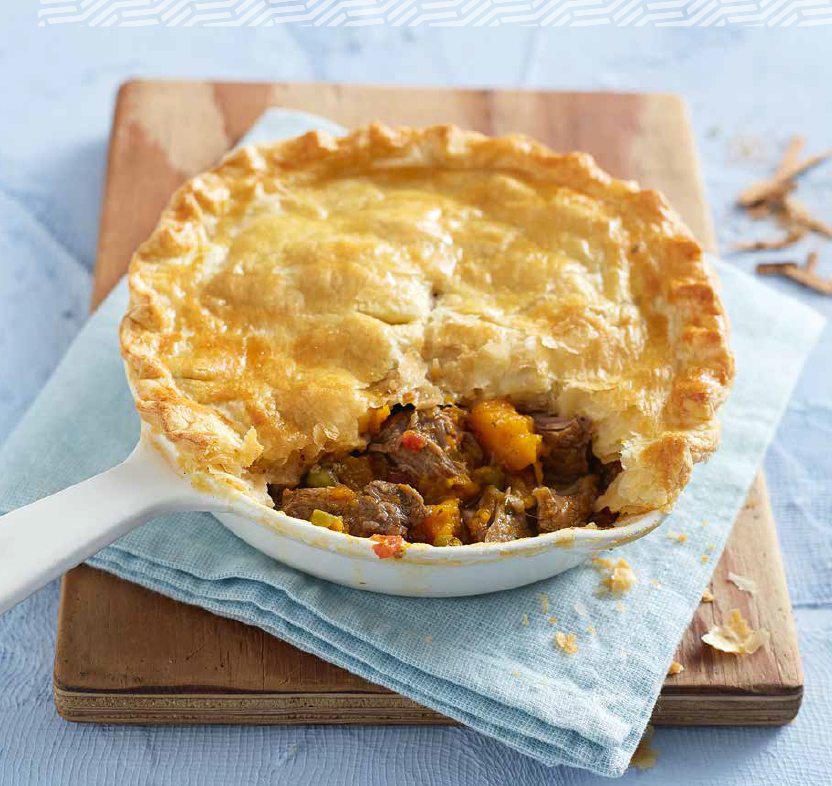 Ingredients
Rough Puff Pastry:
240g / 2 cups Supreme cake fl our
5ml salt
50g cold butter (cubed)
150ml cold water
1 egg (egg wash)
Filling:
2 tablespoons olive oil
3 lamb shanks
1 brown onion (fi nely chopped)
3 garlic cloves (fi nely chopped)
1 tablespoon ras el hanout spice
1 tablespoon plain fl our
400g tinned diced tomatoes
400g pumpkin (peeled and cut into 3cm pieces)
80g frozen peas
1 tablespoon lemon juice
2 tablespoons fresh coriander (finely chopped)
---
Cooking Instructions
Sift fl our and salt into a bowl then rub in the butter loosely (or quickly blend in a food processor
until you are still able to see bits of butter).
Make a well in the centre of the fl our and pour in ± 2 ⁄3 of the cold water. Mix with a palette knife,
until you have a firm, rough dough (add more water if needed). Cover with cling film and leave to
rest in the fridge for 20 minutes.
Turn out the dough onto a lightly floured board and knead gently for 1 minute. Shape the dough into
a smooth rectangle. Roll out the dough in 1 direction only until 3 times the width (± 20 x 50cm).
Keep the edges straight and even, but don't overwork.
Fold the top third down to the centre, then the bottom third up and cover that. Give the dough a
quarter turn (to the left or right) and roll out again to 3 times the length. Fold as before, cover with
clingfilm and chill again for at least 20 minutes before rolling out for the pie topping.
Pre-heat oven to 180ºC / 160ºC fan. Heat 1 tablespoon of oil in a large, heavy-based ovenproof
saucepan over medium-high heat. Season lamb and cook in 2 batches for 4 minutes each batch or
until well browned. Set aside.
Reduce heat to medium. Add 2 teaspoons of oil and cook onion and garlic, stirring, for 5 minutes or
until softened. Add spice mix and fl our and cook, stirring, for 30 seconds. Return meat to pan with
juices and tomatoes. Season and bring to the boil. Cook, covered, in the oven for 1 ½ hours or until
lamb is very tender and sauce is very thick.
Meanwhile, place pumpkin on a baking tray lined with baking paper. Season and drizzle with 2
teaspoons oil. Toss to coat and bake along with lamb for 40 minutes or until tender. Set aside.
Remove the lamb shanks and cut away chunks off the bones (discard the bones). Add the chunks
back to the pot and stir lemon juice through the lamb. Add roasted pumpkin, peas and coriander
and gently stir to combine.
Increase oven temperature to 200ºC / 180ºC fan. Place the lamb mixture in the pie dish and top
with a rolled out rough puff pastry circle large enough to cover the pie dish, pressing edges to seal
and mark the edges with fork twines. Brush with the egg wash. Bake for ± 40 minutes or until
pastry is golden and puffed. Stand for 5 minutes before serving.
---