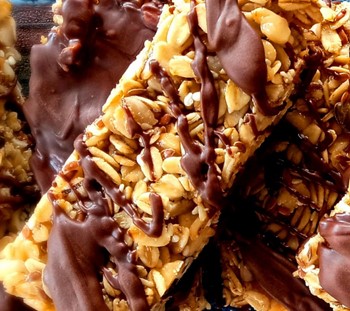 Ingredients
• 2.5 cups Rolled Oats
• 1/2 cup Macadamia Nuts (nuts of choice)
• 1 tbsp Honey/apple syrup
• 1/3 Cup Selati Brown sugar
• 1 tsp Vanilla Essence
• 1/2 cup Flora Plant Butter
• 3/4 cup Seeds (pumpkin, sunflower, linseed etc) or Mixed seed pack
• 150 g Dark Chocolate, melted
---
Cooking Instructions
1. Preheat the oven to 180C. Line a 10cm square baking dish with greaseproof and grease with spray and cook
2. Place the oats and nuts on a tray and bake for 8-10 minutes until lightly toasted. Transfer to a bowl.
3. In a small pan, add the plant butter, honey and sugar. Bring slowly to the boil, stirring continuously until sugar dissolves.
4. Pour this mixture over the oats and nut mixture, add the seeds and vanilla essence, and stir to combine.
5. Place the mixture in the prepared pan. Use a spatula to press the mixture into the pan. Press it in very firmly, this is what makes the bars stick together.
6. Place pan in the fridge for at least 2 hours. Lift out the pan using the edges of greaseproof and place on a cutting board. Cut into fingers.
7. Melt the chocolate in the microwave. Dip the underside of the bars in the chocolate and allow to set. Using a spoon, drizzle the remaining chocolate over the tops of the bars.
8. Store in an air-tight container in the fridge for up to 10 days. If you are stacking the granola bars place a piece of greaseproof between the layers to help prevent sticking.
---