Gluten Free Chocolate Hazelnut Brownies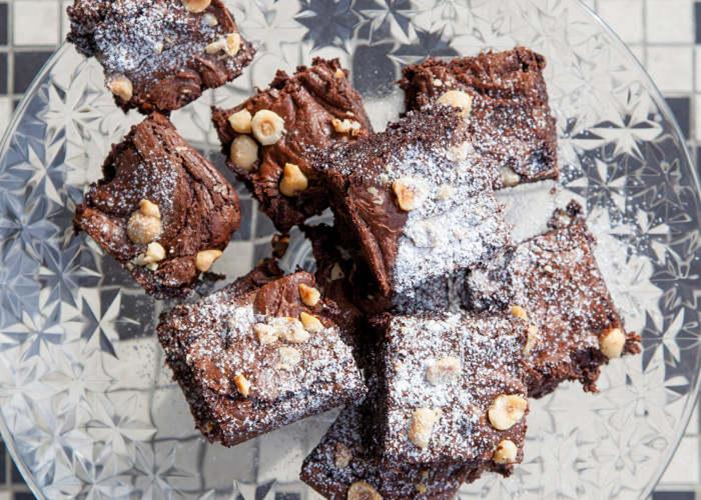 Ingredients
250g butter
200g dark chocolate
70g coconut flour
1 tsp baking powder
1 tsp rock salt
80g cacao powder (I use raw cacao or the Verona 70% cocoa powder for an extra chocolatey taste)
4 large eggs
350g Selati castor sugar
100g hazelnuts, chopped, a mixture of fine & course chunks
3 Tbs Nutella
---
Cooking Instructions
Preheat oven to 180 degrees and grease and line a 20cm square baking tin.
Melt the butter in a sauce pan over a medium heat, stirring gently.
Once completely melted, remove from the heat and add dark chocolate.
Stir until the chocolate melts and mixture is combined.
Place coconut flour, baking powder, salt and cocoa powder into a large bowl and mix.
In a separate bowl, beat eggs until light and creamy.
Add Selati sugar and beat until all is incorporated.
Gradually add melted chocolate mixture to the egg mixture, whisking the whole time.
Gently fold in your coconut flour mixture and then most of your chopped hazelnuts.
Gently pour into baking tin.
Then take a tablespoon of Nutella at a time and swirl it on the top of your brownie mixture.
Sprinkle the remaining chopped hazelnuts over brownie mixture.
Bake for 20 minutes or until a skewer inserted around the outside comes out clean. The centre can still be squidgy as it will keep the brownies moist and gooey once set.
Cool in the tray before cutting into squares.
Serve warm or cold as is or with some fresh cream or ice-cream.
---