Festive Fruit Cake
ADD SOME FESTIVE FLAIR WITH A SIMPLE
GLAZE DRIZZLED OVER THE TOP, AND
RUSTIC WHITE CHOCOLATE STARS.
MAKES 2 LOAVES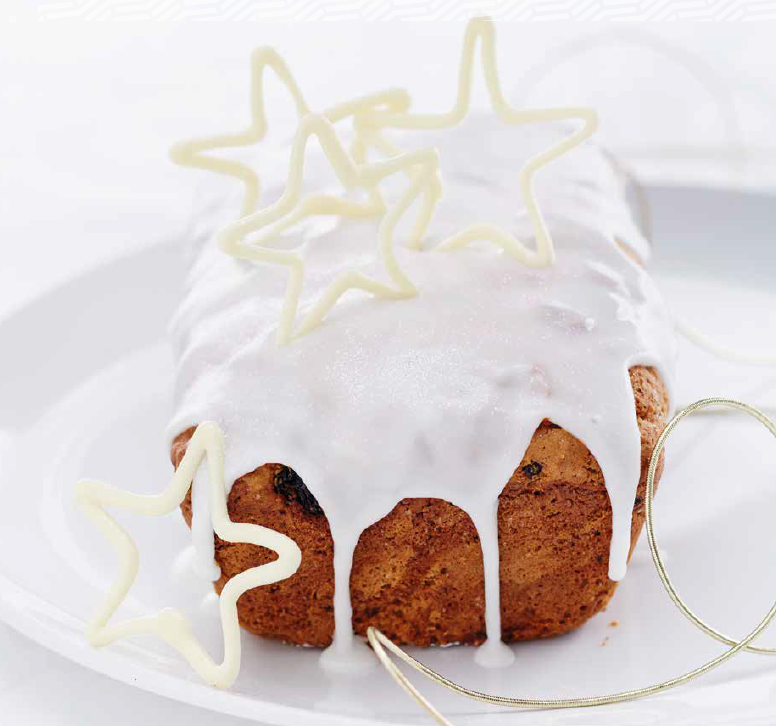 Ingredients
2 cups fruit mix
1 cup golden raisins
Zest of 1 orange
1 cup dark rum
1 cup desiccated coconut
115g butter
300g / 1½ cups Selati sugar
½ teaspoon salt
3 eggs
10ml / 2 teaspoons vanilla essence
500g / 4 cups Supreme cake fl our
15ml / 1 tablespoon baking powder
15ml / 1 tablespoon bicarbonate of soda
250ml sour cream
---
Cooking Instructions
Pre-heat oven to 180°C and grease and line two large loaf tins.
Soak fruit mix, raisins and orange zest in the rum for 2 hours.
Using an electric beater, cream together butter and sugar. Add vanilla
essence, eggs and sour cream and beat together.
In a separate bowl, sift together fl our, salt, baking powder and
bicarbonate of soda. Slowly add fl our mixture into butter mixture, stirring
until incorporated.
Add soaked fruit with its rum and the coconut. Stir well.
Divide the cake mix between the two loaf tins. Bake at 180°C on middle
rack for 1½ hours, or until an inserted skewer comes out clean. Cool and
remove from pans.
---