Crispy Sesame Seed Fish Strips With Creamy Peanut Butter Satay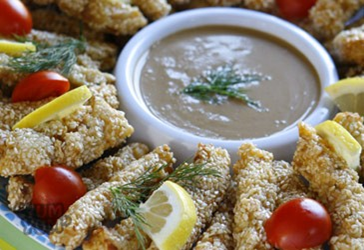 Ingredients
Salt and pepper to taste
800g Hake, cut into strips
250g (1 cup) Supreme Cake Flour
2 Eggs, beaten
200g Sesame Seeds
500ml (2 cups) Nola Cooking Oil
40ml Nola Cooking Oil
1 Small Onion, peeled and finely chopped
2,5ml Crushed Garlic
2,5ml Ground Ginger
125ml (1/2 cup) Yum Yum Ultra Creamy Peanut Butter
250ml (1 cup) Fresh Cream
Salt and Pepper
---
Cooking Instructions
Fish:
Add salt and pepper to hake strips.
Roll the strips in the Supreme cake flour and then in the egg.
Finish the strips off in the sesame seeds (make sure that the strips are completely covered).
Heat the Nola cooking oil in a medium casserole and add the strips one by one into the oil.
Fry the strips until they are golden brown on both sides.
Scoop them out and place onto paper towels to drain the excess oil.
The Strips can be served hot or cold
Satay Sauce:
Heat the oil in a medium frying pan.
Fry the onion, garlic and ginger until soft.
Stir in the peanut butter and cream and cook for 10 minutes over medium heat.
Add the salt and pepper to taste.
Pour the dip into a deep bowl and chill for 20 minutes.
Serve with fish strips and fresh Greek salad on the side.
---