Courgette Quiche
THIS CLASSIC IS A PERFECT STANDBY
LUNCH OR DINNER, PERFECT SERVED
WARM OR COLD.
MAKES 1 QUICHE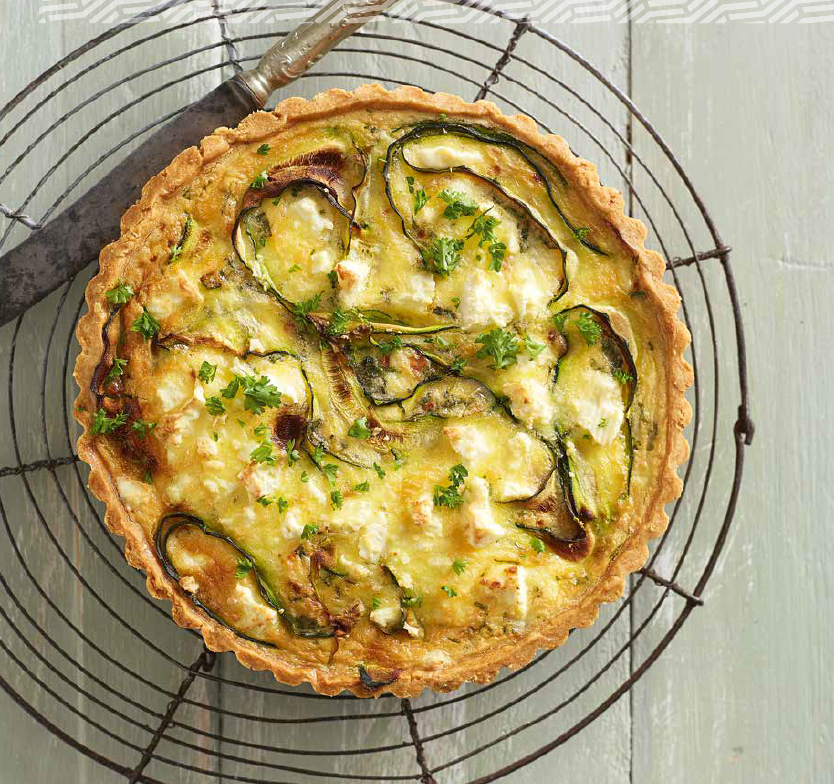 Ingredients
200g Supreme cake fl our (plus extra for dusting)
85g cold butter (diced)
80g parmesan cheese
2 egg yolks
Filling:
1 small courgette (cut into ribbons)
60g Greek feta cheese (crumbled)
5 eggs
¼ cup pure cream
¼ cup finely grated parmesan cheese
1 tablespoon fresh mint (finely chopped)
2 garlic cloves (crushed)
¼ teaspoon chilli flakes
---
Cooking Instructions
For the pastry, tip the fl our, butter and parmesan into a food processor.
Blitz to a rough crumb, then add the yolks and 2 tablespoons water. Pulse
to a loose dough, then tip the mix out onto a floured surface and knead a
few times to a smooth pastry.
Roll the pastry between 2 sheets of baking parchment to the thickness
of a R5 coin – the disc should be big enough to fit a 20cm tart tin with a
loose base. Chill in the fridge for 1 hour.
Use the pastry to line the tin. Work it into the corners, then cut away any
pastry from the edges. Pop back into the fridge for ± 10 minutes.
Pre-heat oven to 180ºC /160ºC fan. Line the pastry case with parchment
and baking beans, and bake for 30 minutes. Lift off the parchment and
beans, and continue to bake until the base is fully cooked and biscuity
brown. Remove from the oven and leave to cool.
Arrange courgette ribbons and feta in pastry case.
Place eggs, cream and cheese in a large jug. Whisk to combine. Season
with salt and pepper. Stir in mint, garlic and chilli. Pour mixture over
courgettes.
Bake for 35 minutes or until golden and just set. Serve.
---