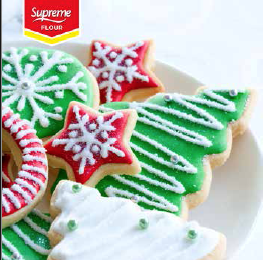 Ingredients
200 g SUPREME Cake Wheat Flour, plus extra to dust
100 g Castor sugar
Pinch of salt
100 g Unsalted butter, chopped
1 Medium egg
5 ml/1 teaspoon Vanilla extract
ICING:
1 Egg white
500 g Icing sugar
Food colouring
Decorations of choice
---
Cooking Instructions
Put the flour, salt, castor sugar, butter, egg and vanilla into a food processor.
Pulse until mixture comes together (if you don't have a processor, rub butter into dry ingredients until it
resembles fine breadcrumbs, then stir in the egg and vanilla using a blunt-ended cutlery knife).
Tip onto a work surface and bring dough together into a disc, then wrap in cling film and chill for 30
minutes.
Pre-heat oven to 180°C.
Lightly flour a work surface, then roll out the dough until 5 mm thick. The thickness will determine how
many cookies you will get from the dough.
Stamp out preferred shape, rerolling trimmings as needed.
Put on a greased baking tray and bake for 12 minutes or until lightly golden, transfer to a wire rack to cool completely.
ICING INSTRUCTIONS:
Place egg white in a large bowl, slowly sieve icing sugar into the bowl, beating well in between.
Whip until icing is thick and creamy. When it is ready it will be glossy and white.
Add preferred food colouring and decorate to suit.
You might need to slightly adjust the consistency of the icing with water as you go. Allow to set before
serving.
---