Chorizo Bean Stew
PLATE UP WITH A WARM HUNK OF
CRUSTY BREAD FOR DUNKING.
SERVES 4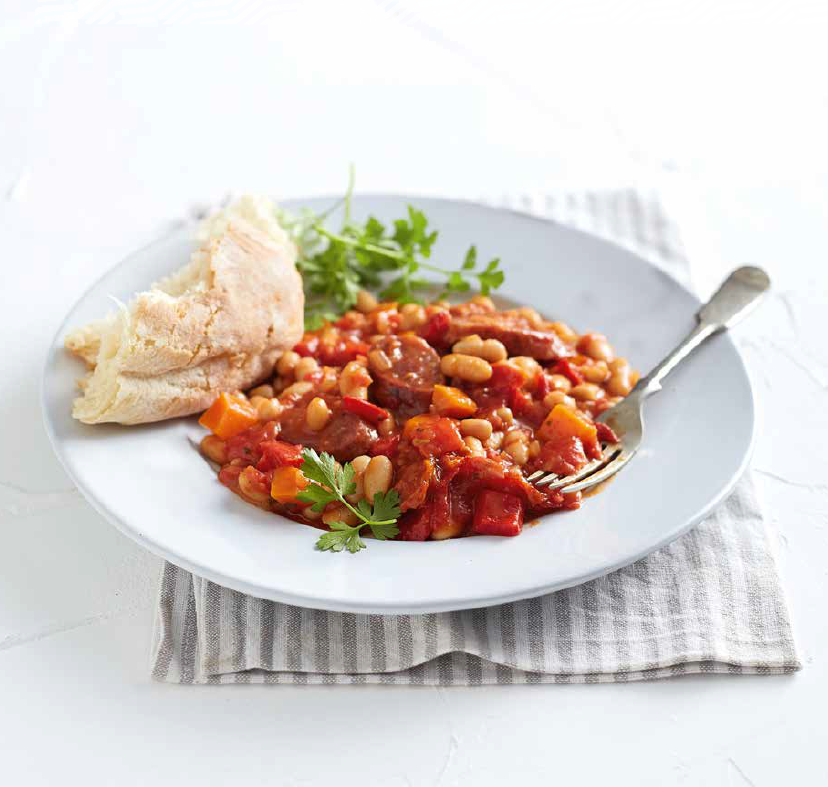 Ingredients
3 tablespoons olive oil
1 carrot (chopped)
1 onion (chopped)
1 celery stick (chopped)
100g sun-dried tomato quarters in oil (drained)
1 red bell pepper (chopped)
250g soft chorizo sausage (sliced)
1 tablespoon Supreme cake fl our
1 cup chicken stock or vegetable stock or water
1 teaspoon sweet paprika
2 teaspoons dried thyme
3 tins cannellini beans
½ cup chopped parsley
salt and pepper to taste
400g tinned diced tomatoes
---
Cooking Instructions
Transfer the olive oil, carrot, onion, celery, bell peppers, sun-dried
tomatoes and the chorizo to a large skillet and cook over medium-high
heat until the vegetables are soft (± 10-15 minutes).
Add a tablespoon of fl our to the vegetables to make a vegetable roux, then
slowly add the stock mixing constantly.
Add the paprika, thyme, parsley, diced tomatoes, beans, salt and pepper.
When it starts to boil reduce heat to low and simmer for 15-20 minutes or
until the sauce has thickened.
---