Chicken Schnitzel Salad
WITH LIGHT QUINOA, CUCUMBER AND
CHERRY TOMATO SALAD.
SERVES 4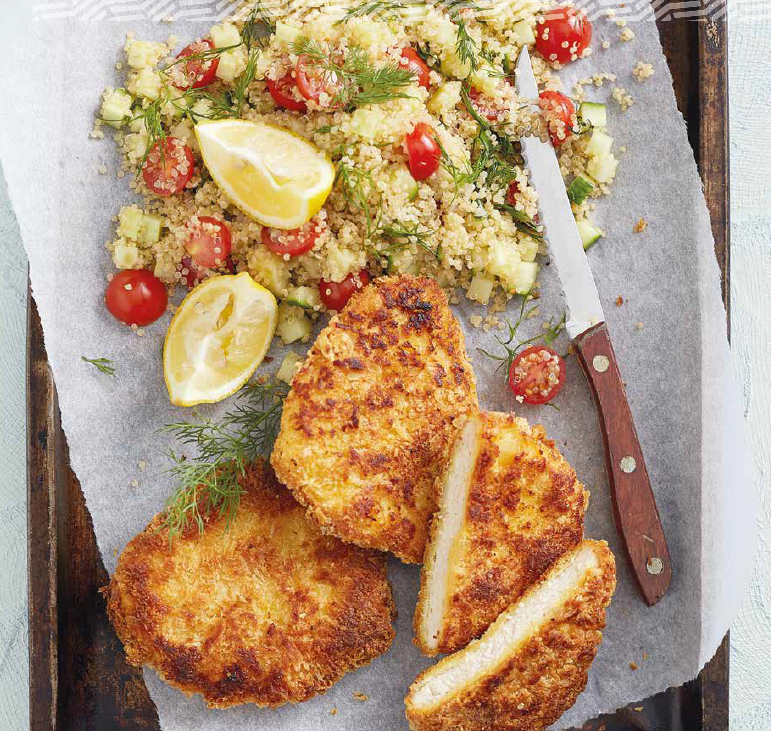 Ingredients
4 chicken breasts
100g Supreme cake fl our
1 large egg (beaten)
75g dried panko breadcrumbs
75ml vegetable oil
Quinoa Salad:
1 cup quinoa (cooked)
2 cups water
1 small cucumber (cubed)
10g dill (fi nely chopped)
250g cherry tomatoes (halved)
Dressing:
1 teaspoon Dijon mustard
1 teaspoon Selati brown sugar
1 tablespoon red wine vinegar
3 tablespoons olive oil
salt and pepper
---
Cooking Instructions
One by one place the chicken breasts between two pieces of cling fi lm and bash with a rolling pin until fl at.
Prepare your coating bowls by putting the fl our in a bowl and season, then put the beaten egg in another bowl. Place the breadcrumbs in a shallow bowl.
First dip the chicken in the fl our, then egg, then breadcrumbs (repeat the egg and breadcrumbs for a thicker coating).
Heat the oil in a large frying pan over a fairly high heat and cook the schnitzels two at a time. Sizzle them for 2-3 minutes each side untilcompletely golden, then lift out onto kitchen paper to drain.
Keep them warm in a low oven while you prepare the rest.
Place all the dressing ingredients in a jar and shake.
Place all the salad ingredients in a bowl and toss in the salad dressing.
---