Butternut And Mature Cheddar Scones
A TWIST ON AN EVERYDAY CHEESE SCONE –
MAKE IT YOUR AFTERNOON TREAT.
MAKES 10-12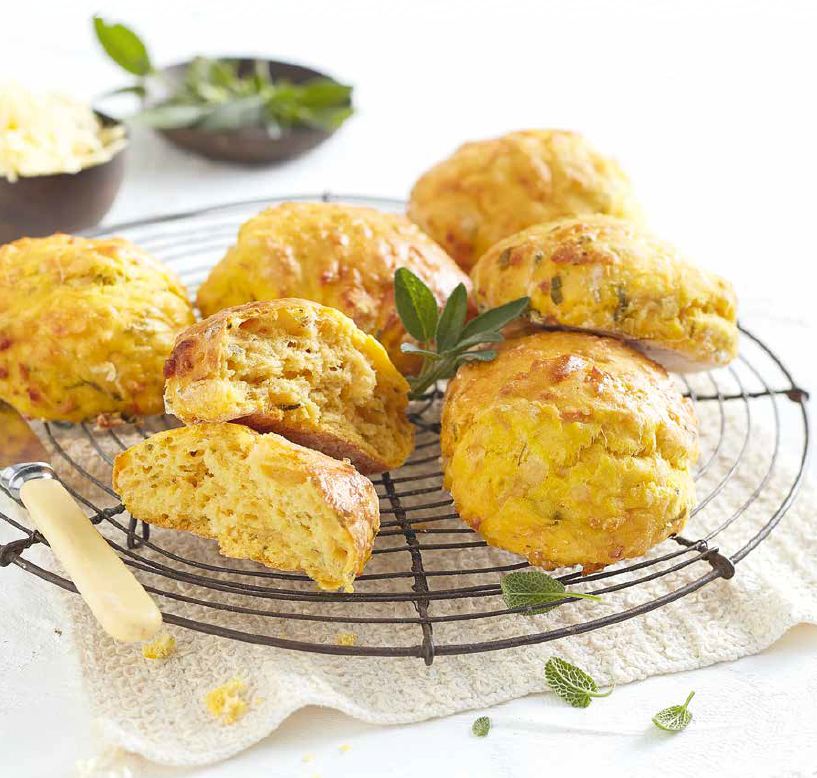 Ingredients
350g butternut (peeled & cubed)
300g / 2 ½ cups Supreme cake flour
5ml baking powder
1 cup white cheddar (grated)
½ teaspoon salt
½ teaspoon black pepper
4 tablespoons sage (finely chopped)
½ cup + 1 tablespoon buttermilk
egg wash
1 egg yolk
---
Cooking Instructions
Pre-heat the oven to 200ºC.
Steam the butternut in a metal basket or sieve over boiling water (lid on).
Cook for 10-15 minutes until soft. Set aside to cool and dry off in the air.
Blend in a food processor or with an immersion blender until smooth (you could also mash by hand using a potato masher).
Mix the flour, baking powder, cheese, herbs, salt and pepper in a bowl.
Add the ½ cup buttermilk and butternut puree to the dry mixture and lightly mix until just combined.
Turn the mixture out onto a lightly fl oured surface and knead slightly to form a dough.
Press the dough down to ± 4-5cm thickness and cut the scones using a 5-6cm cookie cutter and place on a baking sheet lined with silicone or baking paper.
Mix the egg yolk and 1 tablespoon buttermilk together and brush the tops of the scones (NOT the sides).
Bake in the oven for 20-25 minutes until golden brown.
---