Breakfast Crepes
A GENEROUS WHOLEWHEAT CREPE WITH
HAM, SPINACH AND FRIED EGG.
MAKES 8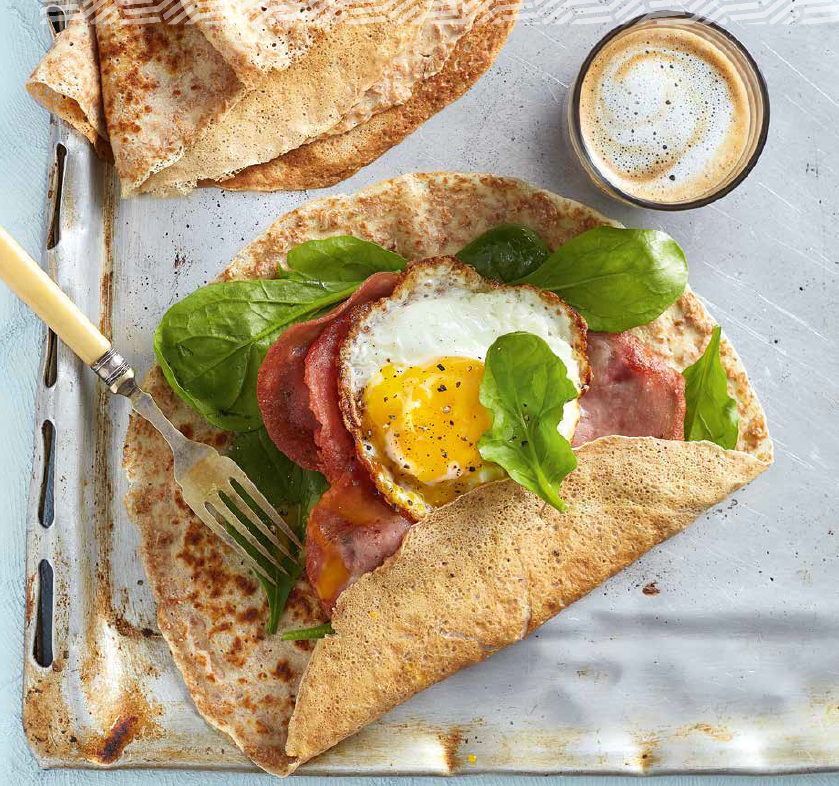 Ingredients
60g / ½ cup Supreme cake flour (or wholewheat flour)
¼ teaspoon sea salt
2 large eggs
½ cup + 2 tablespoons full cream milk
1 tablespoon butter (melted)
Filling:
8 eggs
8 slices sandwich ham
100g baby spinach
---
Cooking Instructions
Whisk together flour, salt, eggs, milk, and melted butter until smooth.
Alternatively, combine everything in a blender and puree until well combined.
Heat a frying pan over medium-low heat and lightly grease with butter.
Place a ¼ cup of batter in pan. Tilt / swirl the pan so that the batter covers the entire bottom of the pan in a thin layer.
Cook for ± 30-60 seconds, until the edges begin to peel away from the sides of the pan and look golden.
Flip and cook for another 20-30 seconds. Adjust heat higher / lower depending on how fast the crêpe is cooking.
Fry 8 eggs sunny side up until almost cooked (will cook more in the oven).
Place the crêpes on 2 baking trays. On each crêpe put a piece of sandwich ham in the middle, top with baby spinach and the fried egg, and fold the edges of the crêpe towards the egg so that it makes a square shape.
Warm up in the oven for 5 minutes before serving.
---