Baja Fish Tacos
WITH AVOCADO, CRUNCHY RED CABBAGE
AND CHIPOTLE MAYONNAISE.
MAKES 8 TACOS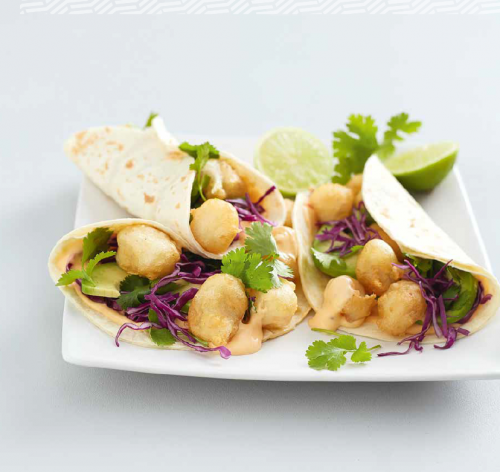 Ingredients
240g / 2 cups Supreme cake flour
½ teaspoon salt
¾ cup water
3 tablespoons olive oil
450g white fish (kingklip)
1 cup all-purpose fl our
1 cup beer
1 teaspoon baking powder
1 teaspoon salt
freshly cracked black pepper
1 teaspoon chilli powder (optional)
½ cup mayonnaise
chipotle or chilli sauce
1 tablespoon lime juice
¼ red cabbage (shredded)
4 avocados (cubed)
20g coriander leaves (stalks removed)
4 limes (cut into quarters)
---
Cooking Instructions
In a large bowl, combine flour and salt. Stir in water and oil.
Turn onto a floured surface; knead 10-12 times, adding a little flour or water if needed to achieve a smooth dough.
Let rest for 10 minutes.
Divide dough into 8 portions. On a lightly floured surface, roll each portion into an 18cm circle.
In a large skillet coated with cooking spray, cook tacos over medium heat for 1 minute on each side or until lightly browned.
Keep warm. Pat dry and season the fish on both sides with salt. Cut into even size chunks.
To make the beer batter, add the flour, baking powder, salt, black pepper and chilli powder (optional) to a mixing bowl.
Combine well and then add 1 cup of beer.
Whisk together until you have batter that is the consistency of thick paint, adding more beer if necessary.
In a deep fat fryer pre-heat oil to 180ºC. Fry a few pieces of fish for a couple of minutes at a time or until the exterior is turning a darker brown.
Carefully remove the fish sticks from the oil, drain them in some paper towels and season with salt, continuing until all the fish sticks are cooked.
Mix the mayonnaise, chipotle or chilli sauce and lime together in bowl.
Place a few pieces of fried fi sh in each soft taco and top with shredded cabbage, avocado cubes, mayonnaise, coriander and a lime quarter.
Repeat until all are filled.
---