Aubergine Fries
WITH LEBANESE 7 SPICE
DRIZZLED WITH HERB YOGHURT
AND POMEGRANATE ARILS.
SERVES 4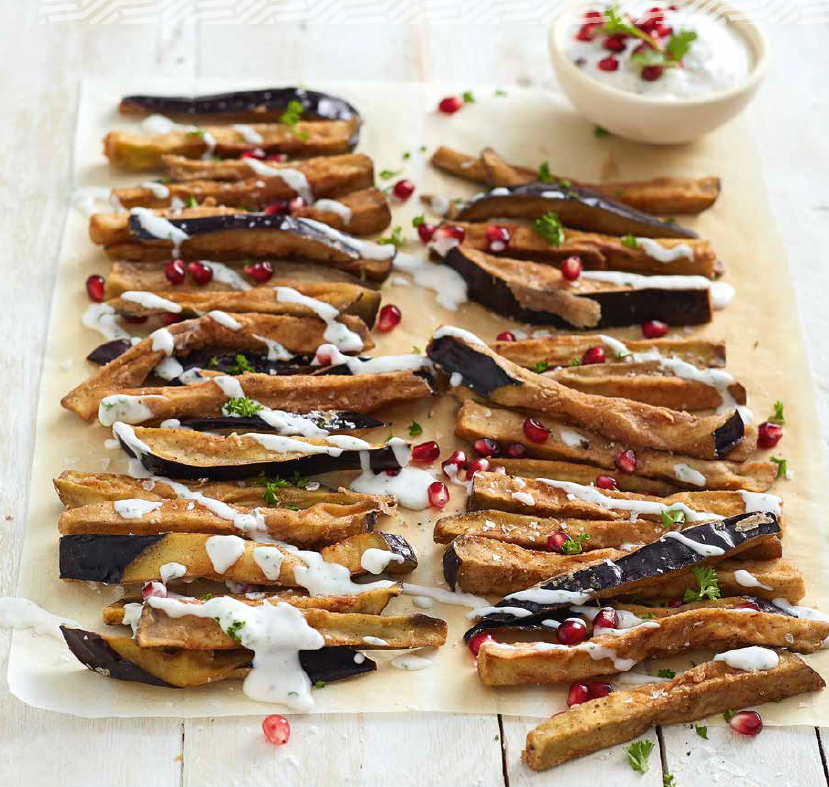 Ingredients
450g aubergines (± 2 medium)
1 tablespoon kosher salt
1½ cups Supreme cake flour
1 tablespoon sea salt (divided)
1 tablespoon Lebanese 7 spice (baharat)
vegetable or canola oil for frying
Herb Yoghurt:
¾ cup plain yoghurt
20g parsley (fi nely chopped)
1 tablespoon red wine vinegar salt and pepper
handful of pomegranate arils
---
Cooking Instructions
About an hour before frying, trim ends of each aubergine then slice them lengthways into 4 or 5 thick slices. Leave skins on. Turn and slice again
into strips (± 30 fries per aubergine).
Lay them out flat on your cutting board or counter and sprinkle both sides with the kosher salt.
Then let sit for an hour. This will draw out any bitterness.
After the hour, place in a bowl and cover with ice water.
In a large bowl, mix the fl our, 1 teaspoon of the sea salt and the Lebanese 7 spice.
Place a large pot on the stove and fi ll half way with the oil and heat to 180ºC.
Pre-heat oven to 150ºC (to keep the fries hot as you cook each batch).
Drain the ice water from the aubergines but do not pat dry. While still wet dredge them all in the fl our mixture and then place on a tray.
Fry in batches for about 4-5 minutes or until they just start to brown and turn a light golden colour. Using a strainer, remove to a tray with paper
towels and generously sprinkle with the remaining sea salt.
As each batch is cooked, place on a pan and hold in the oven until all the fries have been cooked.
To make the yoghurt mix all the ingredients together and serve in a dipping bowl with the fries on the side.
---