Thai Red Chicken Curry With Sweet Basil & Peanuts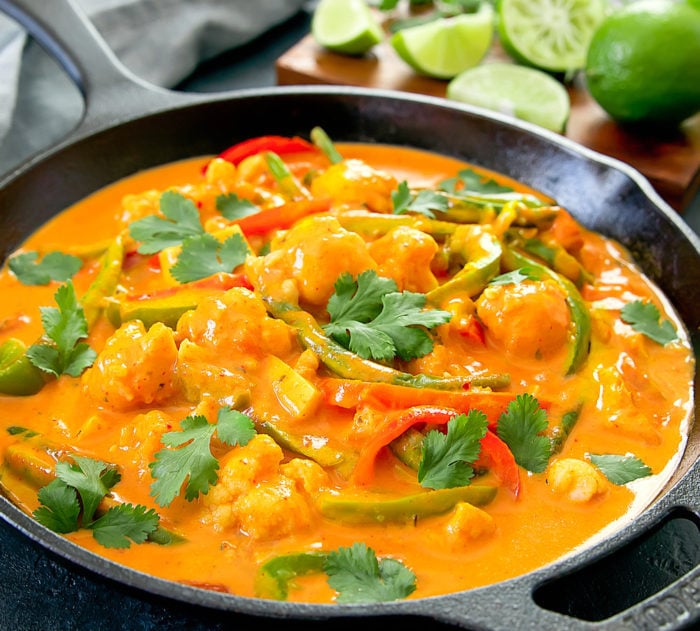 Ingredients
2kg chicken breast, raw and sliced
100ml oil
200g Marvello Butter Flavoured Spread
500g onions
200g garlic
250g red curry paste
6 lemongrass stalks,
bruised with back of a knive
20 lemon leaves
600g carrots, sliced
600g courgettes, sliced
250g bok choy, sliced or halved
100g peanuts, whole and toasted
50ml soy sauce
500g peppers
1,2lt coconut milk
1,2lt Meadowland Classique
300g white button Mushroom
5 chillis, sliced
60g coriander
60g basil
FOR THE CURRY PASTE:
10ml ground coriander seed
8 red chillies, seeded
60g garlic, finely crushed
30g lemongrass, finely sliced
30g coriander root, finely chopped
5ml shrimp paste (trasi)
5ml roasted cumin seed, ground
40g onion, finely chopped
20g galangal
10ml fresh lime zest
20 black peppercorns
5ml salt
---
Cooking Instructions
Place all the curry paste ingredients in the blender and
blend till smooth.
Replace shrimp paste with fish sauce if necessary.
In a pot, heat oil and add Marvello Butter Flavoured Spread
and onions with sugar and salt cook until translucent and
soft.
Add lemongrass stalks and lemon leaves and cook until the
aroma rises. Add the curry paste and cook down on low for
5 minutes.
Place the chicken breast in the pot and coat all the pieces
with the paste. Once coloured, about 10 minutes of
cooking, add carrots and toss.
Finish off with soy, coconut milk and coconut cream.
Once simmered, add the balance of the veg and slowly
simmer until infused. If further seasoning is needed,
balance with salt and sugar
To serve, add basil, coriander and toasted peanuts and
chilli for those seeking heat.
Steamed jasmine or basmati rice would be suggested for
this meal.
---