Taste Of Kasi
The epitome of relaxed summer dining, Nola Ultra
Creamy is used here to create tasty boerewors roll
toppings.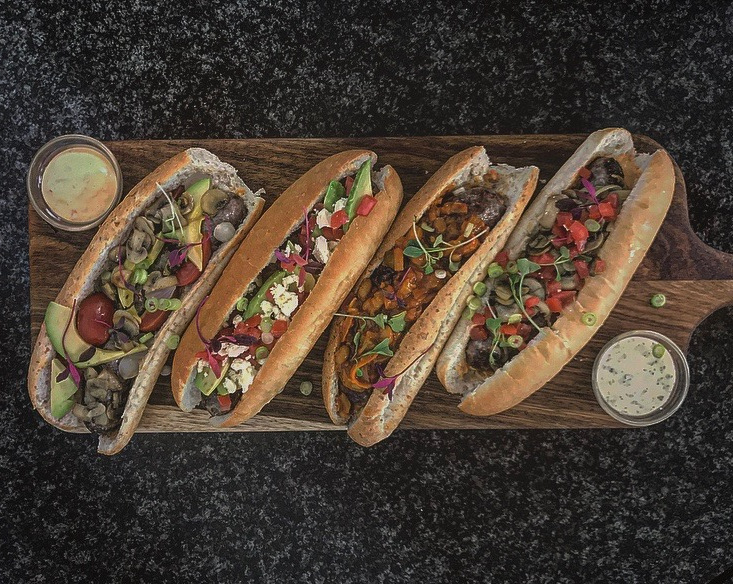 Ingredients
4 hot dog rolls
4 Boerewors sausages
2 Tbsp chakalaka
2 onions, julienned
1 punnet of mushrooms, sliced
1 avocado, sliced
1 spring onion
1 tomato, seeds removed and diced
7 Tbsp Nola Ultra Creamy
6 cocktail tomatoes
6 pickled cocktail onions
olive oil
salt and pepper
2 limes
5 coriander sprigs
---
Cooking Instructions
Peel and slice the avocado and crumble the feta.
Cut the cocktail tomatoes and pickled onions in half and place in a
bowl. Add salt, pepper and olive oil and set aside.
MUSHROOMS AND ONIONS:
Sauté onions and mushrooms in separate pans with a bit of olive oil.
Add salt and pepper to each, allowing both onions and mushrooms
to sweat down and get golden in colour.
Place each in separate bowls.
CHAKALAKA MAYO:
Place 4 tablespoons of Nola Ultra Creamy into a blender together
with 2 tablespoons of Chakalaka. Blend until smooth.
LIME AND CORIANDER MAYONNAISE:
Add the lime zest and juice to 3 tablespoons of Nola Ultra Creamy.
Add a pinch of salt and pepper as well as finely chopped coriander.
Mix well to combine.
ASSEMBLY:
Grill, braai or lightly fry the boerewors sausages.
Place each sausage in a hot dog roll and serve on a slate.
Top the hot dogs with mushrooms, onions, avocado, feta, onion and
tomato mix, spring onions and diced tomatoes according to taste.
Place the Chakalaka Mayo and Lime and Coriander Mayo dipping
sauces next to the hot dogs.
---