Prawn Calypso With Green Peach Dressing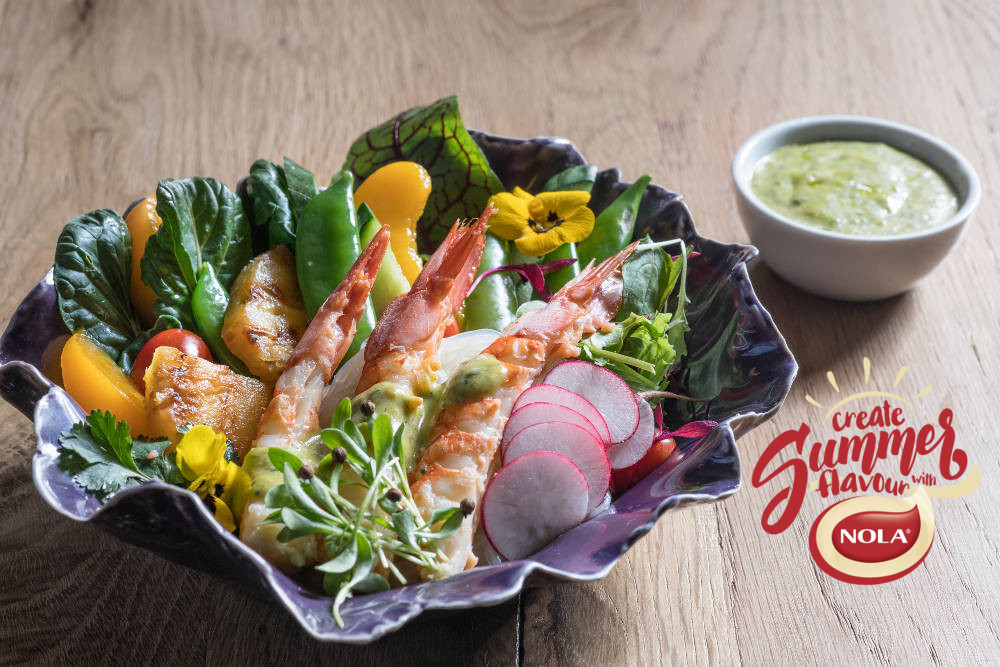 Ingredients
2kg queen prawns, shelled and de-veined
6 slices of tinned peaches, plus extra for
salad assembly
10ml olive oil
125ml Nola Reduced Oil Salad Dressing
30g coriander, leaves only
parsley, finely chopped
juice of half a lemon
2 cucumbers, cored and cubed
100g peppadews
250g pineapple, sliced and grilled
2 radishes, thinly sliced
200g glass noodles, cooked
200g sugar snap peas
---
Cooking Instructions
FOR THE DRESSING:
Blend 6 peach slices, with lemon juice, olive oil, coriander and
Nola Reduced Oil Salad Dressing. Add salt to taste.
FOR THE SALAD:
Steam prawns and season.
Prepare salad ingredients and layer in poké bowl with pineapple
and peppadews.
Toss the cooked glass noodles with a tablespoon of dressing until
well coated.
Arrange the salad ingredients in bowl and garnish. Drizzle
generously with Green Peach Dressing.
---