Peruvian Kingklip Ceviche Served With Beetroot Sponge & Sorbet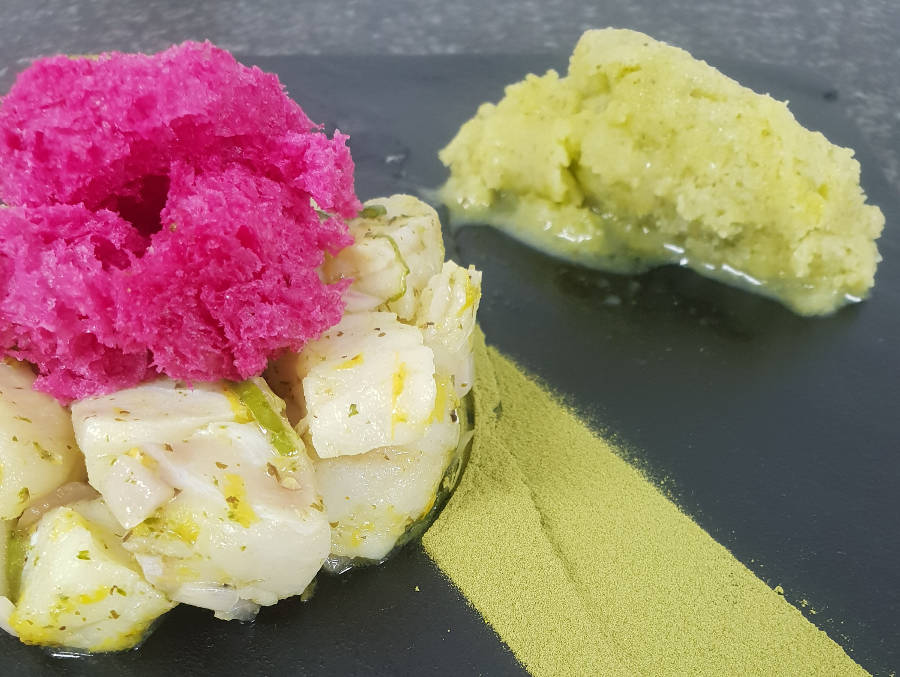 Ingredients
FOR THE BEETROOT SPONGE:
100g Nola Original
20g icing sugar
20g cake flour
3 eggs
10g beetroot dust (dehydrated beetroot,
blitzed into powder)
FOR THE KINGKLIP CEVICHE:
50g Nola Reduced Oil Salad Dressing
600g fresh Kingklip fillet
6 limes, zested and juiced
50ml olive oil
25ml white wine vinegar
10g fresh parsley
2 green chilli
10g red onion, diced
5g spring onion, sliced
30ml vodka
---
Cooking Instructions
Whisk eggs and sugar until well combined and creamy.
In a separate bowl mix the flour and beetroot dust together.
Whisk flour mixture into the Nola Original.
Whisk the egg mixture into the flour mixture and pass through a
sieve.
Pour into a Cream Gun (Espuma) and charge with two CO2
charges.
Let rest for a few hours.
Spray mixture into microwave suitable containers like a plastic
cup and microwave on high for 20 – 30 seconds.
Remove from container and let cool.
TO MAKE THE CEVICHE:
Cut the Kingklip fillet into small cubes.
Mix the Nola Reduced Oil Salad Dressing with the rest of the
ingredients and cover the kingklip with this mixture for 30
minutes.
Drain the mixture through a sieve, retaining the liquid (leche) for
the sorbet.
Pour the leche into a tray and place in the freezer.
Whisk every 15 -20 minutes until the mixture is frozen and has a
smooth consistency.
Garnish with matcha powder.
---