Pan-fried Chicken Schnitzel With An Asian Pineapple Slaw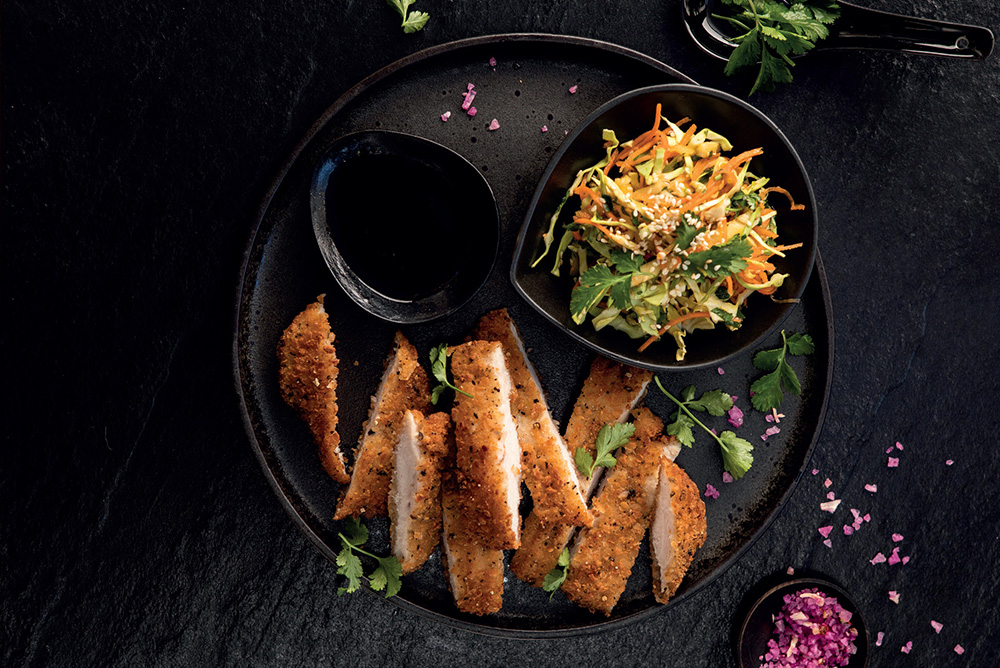 Ingredients
FOR THE ASIAN SLAW:
1 mini green cabbage, shredded
1 carrot, peeled and shredded
handful of fresh coriander,
roughly chopped
2 Tbsp (30 ml) toasted sesame seeds
1/4 pineapple, peeled and cut
into thin strips
2 tsp (10 ml) sesame seed oil
2 Tbsp (30 ml) light soy sauce
juice of 1 lime
1 tsp (5 ml) honey
1/2 red chilli (optional)
FOR THE SOY DIPPING SAUCE:
1/4 cup (60 ml) light soy sauce
2 Tbsp (30 ml) honey
1/2 clove garlic, crushed
dash of sriracha sauce (optional)
FOR THE SCHNITZEL:
vegetable oil, for frying
4 chicken schnitzels
---
Cooking Instructions
Place cabbage, carrots, coriander, sesame seeds and pineapple into a bowl and toss to combine. In a small bowl whisk together the sesame seed oil, light soy sauce, lime juice, honey and chilli and pour over the slaw. Set aside to marinade for at least 15 minutes.
SOY HONEY DIPPING SAUCE:
Place all ingredients into a saucepan and allow to simmer for about 3-4 minutes or until slightly thicker consistency. Set aside.
TO MAKE THE SCHNITZELS:
Heat a little oil in a frying pan and fry the schnitzels for about 3-4 minutes on each side or until golden brown, crispy and cooked through.
TO SERVE:
Place 2 chicken schnitzels onto each plate and serve alongside the Asian slaw. Pour a little dipping sauce into a small bowl and serve on the side.
---