Pan Fried Chicken Schnitzel With A Thai Red Curry Sauce & Jasmine Rice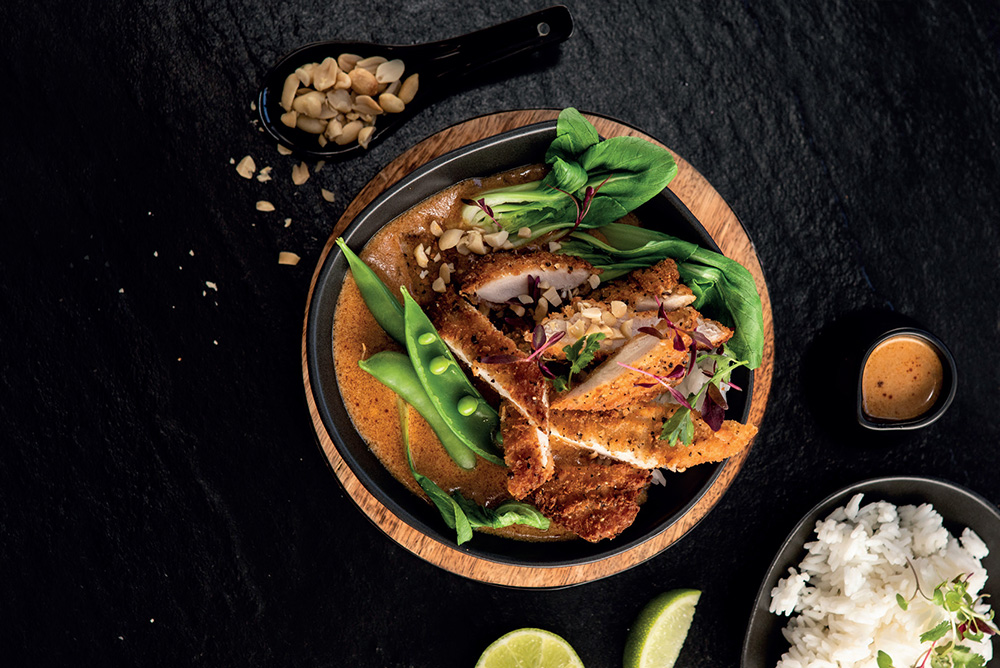 Ingredients
FOR THE THAI RED CURRY SAUCE:
vegetable oil, for frying
1/2 small onion, finely chopped
1 clove garlic, crushed
1 piece of ginger, peeled and
finely grated
1/2 packet (40 g) Thai red curry paste
1/2 cup (125 ml) chicken stock
1/2 can coconut milk
2 tsp (10 ml) soy sauce
squeeze of honey
juice of half a lime
1 Tbsp toasted peanuts, chopped
small handful of coriander,
roughly chopped
lime wedges, for serving
200 ml jasmine rice, cooked according to packet instructions
FOR THE SCHNITZEL:
Vegetable oil, for frying
4 chicken schnitzels
2 bok choi, sliced in half and blanched
handful of sugar snap peas, blanched
---
Cooking Instructions
THAI RED CURRY SAUCE:
Heat a little vegetable oil in a pot and gently sauté onions, garlic and ginger for a couple of minutes or until just lightly golden.
Add in the curry paste and stir fry for a minute. Pour in the chicken stock and allow to simmer for 5 minutes.
Add the coconut milk and bring to a gentle simmer for about
5 more minutes. Season sauce with soy sauce, honey and lime and set aside.
TO MAKE THE SCHNITZEL:
Heat a little oil in a frying pan and fry chicken schnitzels for about 3-4 minutes on each side or until golden brown, crispy and cooked through. Remove from pan and drain on some absorbent paper. Season lightly with salt and pepper.
TO SERVE:
Spoon a little jasmine rice into each serving bowl and top with bok choi and some sugar snap peas. Top with the sliced chicken schnitzel and pour over the sauce or serve it on the side.
Garnish with fresh coriander, some chopped toasted peanuts and extra lime wedges.
---