Open Chicken Taco With Guacamole & Charred Corn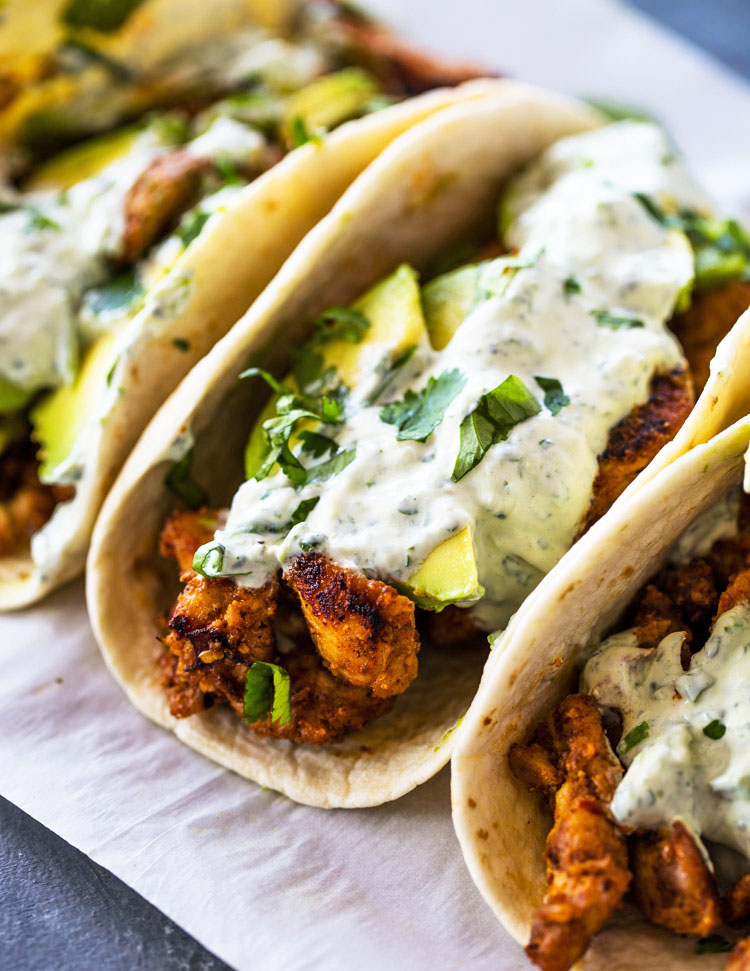 Ingredients
10 soft flour tacos
10 Lemon & Black Pepper Chicken Schnitzels
5 limes, halved and grilled on hot skillet
vegetable oil for frying
fresh coriander for garnish
PICO DE GALLO:
400g tomatoes
400g onions, finely chopped
20g coriander, chopped
salt, to taste
white pepper, to taste
LEMON GARLIC CREAM:
500ml cream
50ml lemon
10g garlic, crushed
GUACAMOLE:
5 avocados
50ml lemon juice, to taste
salt, to taste
5g white pepper
6g sugar
coriander, chopped
CHARRED CORN:
5 corn cobs
100g Marvello Butter Flavoured Spread
---
Cooking Instructions
FOR THE PICO DE GALLO:
Deseed and finely chop the tomatoes, combine with the rest of the salsa ingredients and season to taste.
FOR THE GUACAMOLE:
Scoop out the flesh of the avocados and mash into a bowl with the balance of ingredients. Place in piping bag for serving.
FOR THE LEMON GARLIC CREAM:
Add cream to a metal bowl and whip until soft peak. Fold in lemon juice and crushed garlic. Place in piping bag for serving.
FOR THE TACOS:
Heat a skillet (use the same skillet for the limes – no fat needed). Rub corn with Marvello Butter Flavoured Spread and grill until semi-charred but not bitter. Keep turning until tender. Slice kernels off cob to be used for assembly.
Heat a little vegetable oil in the skillet. Fry chicken schnitzels for about 3-4 minutes on each side or until golden brown and crispy.
Place tacos on the grill on either side for 30 seconds. Slice cooked schnitzel and place on the taco.
With a piping bag, add guacamole and cream. Sprinkle with salsa and corn. Garnish with coriander and fresh limes.
---