Nandi's Beef Stew With Maize Dumplings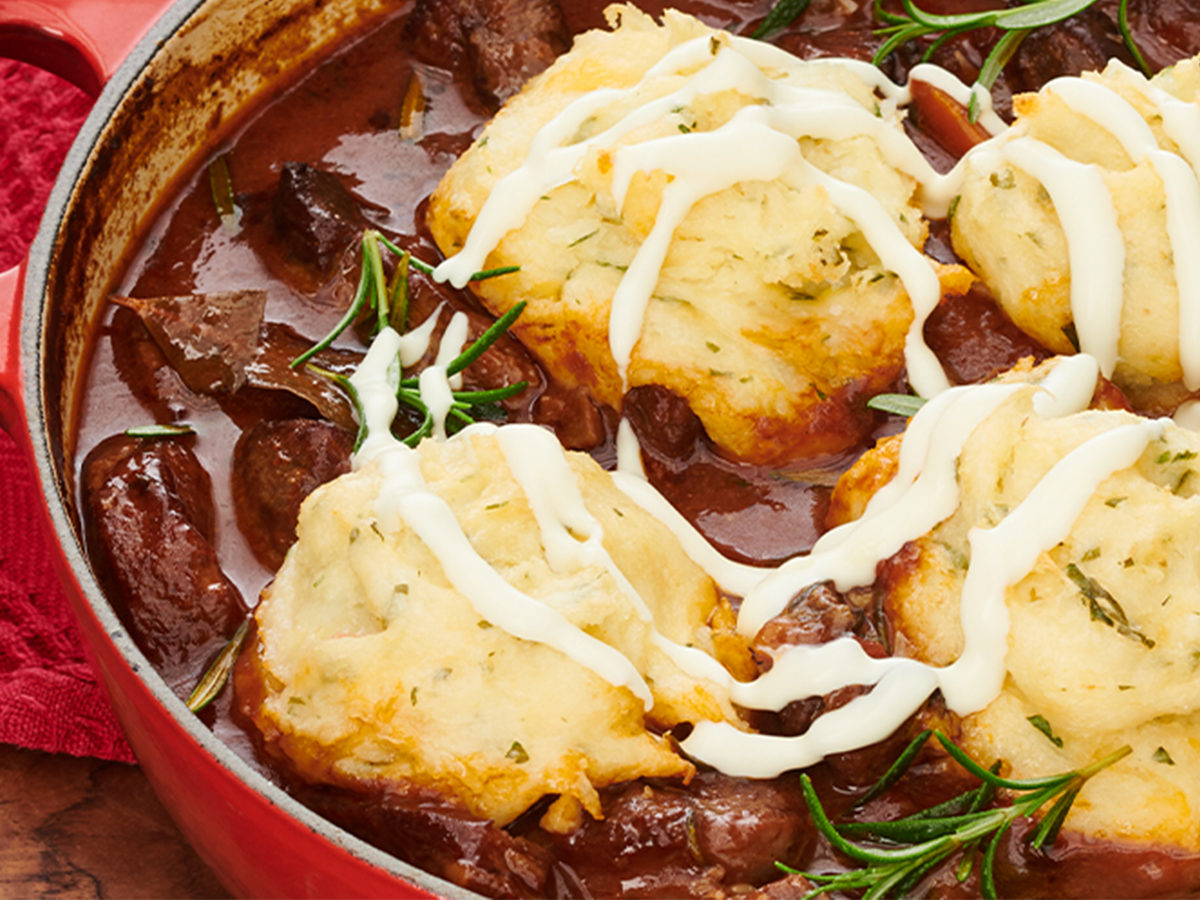 Ingredients
For the stew:
1.5kg stewing beef
3 tbsp (45ml) olive oil
1 onion, diced
1 clove garlic, finely chopped
1 stalk of celery, diced
1 tbsp (15ml) thyme
1 tbsp (15ml) rosemary
2 tsp (10ml) tomato paste
1 can chopped tomatoes
1 cup (250ml) beef stock
1 bay leaf
3 carrots, peeled and cut into chunks
For the dumplings:
2 cups (500ml) vegetable stock
200g maize meal
1/2 cup (125ml) Nola Original Mayonnaise
1/2 cup (125ml) grated cheese
2 tbsp (30ml) parsley, chopped
---
Cooking Instructions
Heat the olive oil in a casserole dish over a low heat.
Add the beef and brown all over.
Remove and set aside.
Add the onions and sauté for 5 minutes.
Mix in the garlic, celery and herbs and sauté for another 3 minutes or until the onions are soft and sweet.
Add the browned beef, tomato paste, tinned tomato, stock and bay leaf and bring to the boil.
Reduce heat, cover tightly and simmer for 60 minutes or until the beef is soft and tender, adding the carrots in for the last 20 minutes of cooking.
In the meantime, to make the dumplings, bring the vegetable stock to the boil and reduce to a simmer.
Pour in the maize meal, season and stir well with a wooden spoon.
Cook for 20 minutes or until thick and creamy.
Stir in the Nola Original Mayonnaise, cheese and parsley and tip onto a baking sheet to cool until warm enough to handle.
Using wet hands, roll into dumplings and pop on the top of the stew 20 minutes before the end of cooking.
For extra creaminess: serve with a generous dollop of Nola Original Mayonnaise on top of each serving.
---