Mediterranean Pasta Salad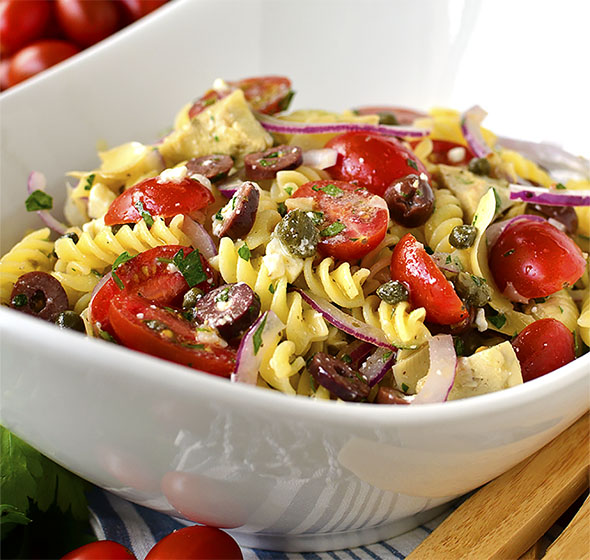 Ingredients
1 medium eggplant, cubed
2 baby marrows, sliced thickly
200g cherry tomatoes
salt and pepper, to taste
olive oil, for roasting vegetables
10g garlic, minced
75ml olive oil
25ml lemon Juice, or to taste
125g sweet basil
100g black mission olives, pitted
125ml Nola Reduced Oil Salad Dressing
500g fusilli pasta, cooked
2 yellow peppers, charred, peeled, sliced
80g Pecorino or similar hard cheese, shavings
80g italian parsley, chopped
50g capers, fried
---
Cooking Instructions
FOR THE VEGETABLES:
Place the vegetables in a bowl and lightly drizzle with olive oil and add salt and pepper to taste.
Mix well and spread evenly on an oven tray. Roast at 180 – 200°C for 15 minutes, or until cooked through and roasted.
FOR THE DRESSING:
Blend olive oil, garlic, Nola Reduced Oil Salad Dressing and basil. Finish with a squeeze of fresh lemon.
ASSEMBLY:
Combine pasta with peppers, olives, Pecorino shavings, parsley, capers and roast vegetables.
Stir the basil dressing through well, until each element is coated.
---