Hake Tempura With Chilli Lemon Sauce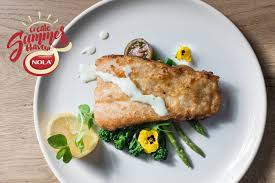 Ingredients
2.4kg Hake fillets
300g flour
150g cornflour
100ml malt vinegar
15g salt
10g fish spice
FOR THE CHILLI LEMON SAUCE:
50ml lemon juice, or to taste
40g lemon zest, or to taste
100ml Nola Original
10ml garlic chilli paste
10g black pepper
50ml olive oil
---
Cooking Instructions
Combine all the ingredients for the Chilli Lemon Sauce and whisk
until combined. Set aside to serve.
Season the hake with the fish spice.
Make a batter with the flour, corn flour, vinegar, salt and cold
water.
Dip the hake into the batter and deep-fry until crisp and cooked
Serve with green salad and the Chilli Lemon Sauce on the side.
---