Grilled Tomahawk With Harissa Butter And Pap Chips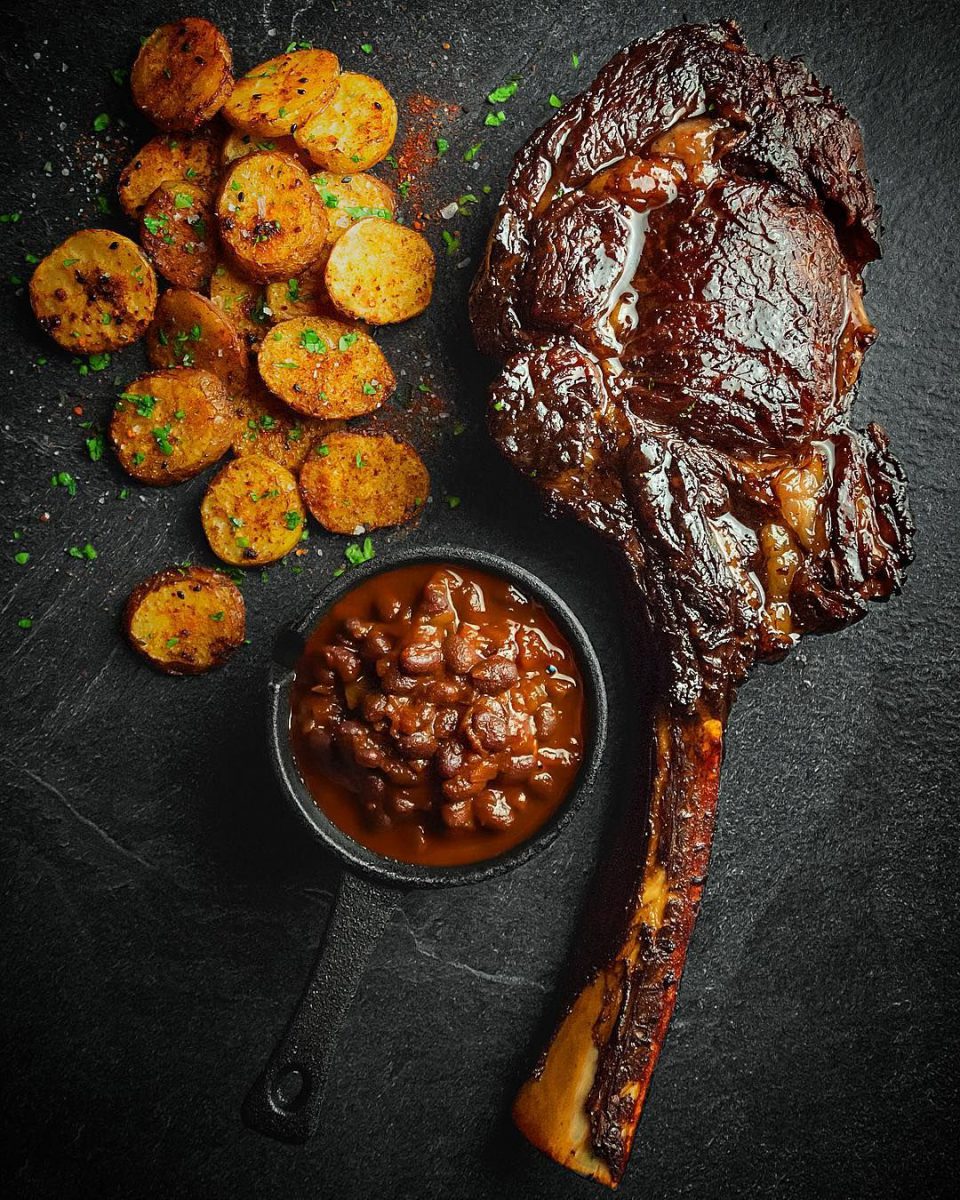 Ingredients
10 x 1,4kg Tomahawk Steak on the bone
100g garlic clove, crushed
6g salt
6g black pepper, coarse ground
20g rosemary, chopped
20g thyme, chopped
60g wholegrain mustard
100ml olive oil
FOR THE HARISSA PASTE:
400g red peppers roasted and peeled, drained
20g garlic, crushed
2g cumin, ground
60ml olive oil
3 red chillies, deseeded
2g coriander, ground
FOR THE HARISSA BUTTER:
200g harissa paste
200g Marvello Butter Flavoured Spread
20g thyme, chopped
70g parsley
FOR THE PAP CHIPS:
400g mielie meal
150g Marvello Butter Flavoured Spread
6g thyme, chopped
500ml water, cold
1lt water, for boiling
---
Cooking Instructions
Rub steaks with oil, season with salt and pepper and place on hot grill or skillet.
Sear on both sides for 3-4 minutes or until grill lines are clear.
Finish with garlic, mustard and herbs and roast until chosen doneness. Use a meat thermometer to assist you and allow to rest before serving.
(Roasting in 150˚C preheated oven for 45 min is generally medium rare. This however might vary dependant on how thick the steaks are cut or the oven.)
Present with Marvello Butter Flavoured Spread and allow to melt on steak on presentation.
HARISSA PASTE:
Place all paste ingredients into a food processor and mix to a paste. Add the Marvello, thyme and parsley and pulse further to combine
Use 40g of Harissa Butter per steak. Either freeze them in moulds for easy use or place in a piping bag for service.
PAP CHIPS:
Place mielie meal in cold water and stir into a paste.
In a pot bring 1lt of water to a boil with Marvello Butter Flavoured Spread and seasoning.
Add mielie meal paste to boiling water and whisk until smooth.
Pour in 28cm x 21cm silicone mould and set.
Cut into chip shapes and deep fry for service.
---