Garlic, Herb & Parmesan Pull Apart Brioche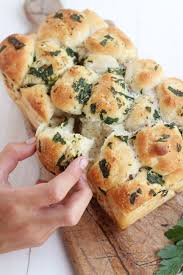 Ingredients
BRIOCHE DOUGH:
500g white bread flour
10g salt
50g castor sugar
10g instant yeast
100ml full fat milk
5 large eggs
250g Marvello Bake, chopped
GARLIC BUTTER:
150g Marvello Bake, melted
4 – 6 garlic cloves
1 tbsp fresh rosemary, chopped
1 tbsp fresh thyme, chopped
2 tbsp fresh parsley, chopped
pinch salt
a pinch of freshly ground black pepper
50g grated parmesan
GARLIC
---
Cooking Instructions
Preheat oven to 180˚C or 160˚C fan assisted.
Beat together flour, salt, milk, eggs, yeast and sugar until a smooth dough forms. Slowly add the chopped Marvello, continue to mix until the dough comes together and starts to leave the sides of the bowl. The dough will be very soft and smooth and slightly tacky. Place into a bowl covered with clingfilm and refrigerate overnight.
Take the dough out of the fridge, knead the dough on a floured surface till smooth. Separate the dough into 20 x 60g balls.
Make the garlic butter, melt the Marvello then mix in the rest of the ingredients. Grease a 26cm springform round cake tin.
Take each ball and dip into the garlic butter mix, arrange the balls in the tin. Sprinkle with one more layer of grated parmesan, then allow to prove for approximately 1 hour or until double in size.
Bake for approximately 35 to 40 minutes.
---