Fish Skewers With Garlic Chive Fondue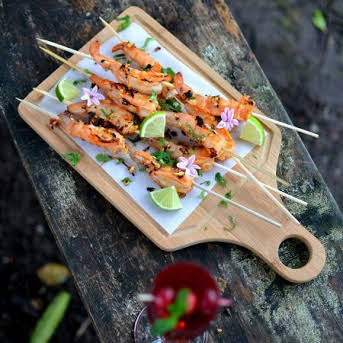 Ingredients
2kg fresh white fish such as kingklip
200g Marvello Butter Flavoured spread
6g salt
6g pepper
paprika
300g fresh lemon
20 skewers
5 red chillis, deseeded and thinly sliced
100g coconut flakes
50g garlic
30g chives
2kg Marvello Butter Flavoured Spread
2 litre hot water, boiling in a pot
500g broccoli
100g Marvello Butter Flavoured Spread
150g toasted flaked almonds
200g cucumber
500ml spirit vinegar
200g sugar
---
Cooking Instructions
Soak wooden skewers in water for 2 hours.
FOR THE PICKLE:
Dissolve sugar into vinegar in saucepan over a low heat. Remove from heat and leave to cool. Slice cucumber into long, thin julienne strips. Add cucumber to cooked vinegar solution to create a quick pickle.
FOR THE FISH SKEWERS:
Cube fish into equal sizes and arrange onto skewers – squeeze over the fresh lemon. Keep used lemon halves for grilling.
Melt Marvello Butter Flavoured Spread, drizzle over skewers and season with salt, pepper and paprika. Bake under the grill for 5-10 minutes, with the lemon peels, until done.
FOR THE BROCCOLI:
Once water is boiling, blanch the broccoli until it brightens in colour (approx 3 minutes). Remove and refresh in iced water.
Toss in a hot pan with Marvello Butter Flavoured Spread and toasted almonds.
FOR THE GARLIC BUTTER FONDUE:
Melt Marvello Butter Flavoured Spread and strain through muslin cloth, heat with garlic and when ready to serve add fresh chives – serve warm.
Place fish skewers on a bed of cucumber pickle sprinkled with fresh coconut flakes, chilli and coriander. Serve with the Garlic Butter Fondue and broccoli on the side.
---