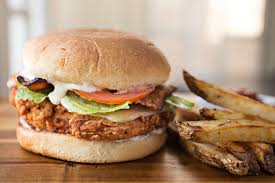 Ingredients
2 Ready2Go 125g Schnitzels
1 Seeded burger bun
4 Rashers of bacon
Handful of iceberg lettuce
1/2 Tomato, thinly sliced
2 Tbsp. Honey mustard sauce
Marvello Spreadable Margarine
(for toasting bun)
FOR THE SAUCE:
1 tsp Dijon Mustard
3 Tbsp. Nola Ultra Creamy Mayo
1 tsp honey
---
Cooking Instructions
Bake the Ready2Go 125g Chicken Schnitzels in the oven
for approximately 20min at 180˚C.
While the chicken cooks, pan fry the bacon until crispy.
Spread the Marvello Spreadable Margarine evenly on the
seeded burger bun and toast until golden.
Whisk the sauce ingredients together in a bowl.
TO ASSEMBLE:
Spread about a tablespoon of honey mustard sauce on
both halves of the bun.
On the bottom bun half – layer some of the iceberg
lettuce, slices of tomato and 2 rashers of bacon.
Place 1 of the Ready2go 125g chicken schnitzels, and
repeat the layers of the iceberg lettuce, tomato and
bacon.
Top off with the other Ready2Go 125g chicken schnitzel
and the other half of the bun.
Serve with fries and enjoy!
---