Deconstructed Chicken Cobb Salad
An innovative take on the classic Cobb salad that uses all three variants of Nola mayonnaise to create a light, elegant and delicious starter.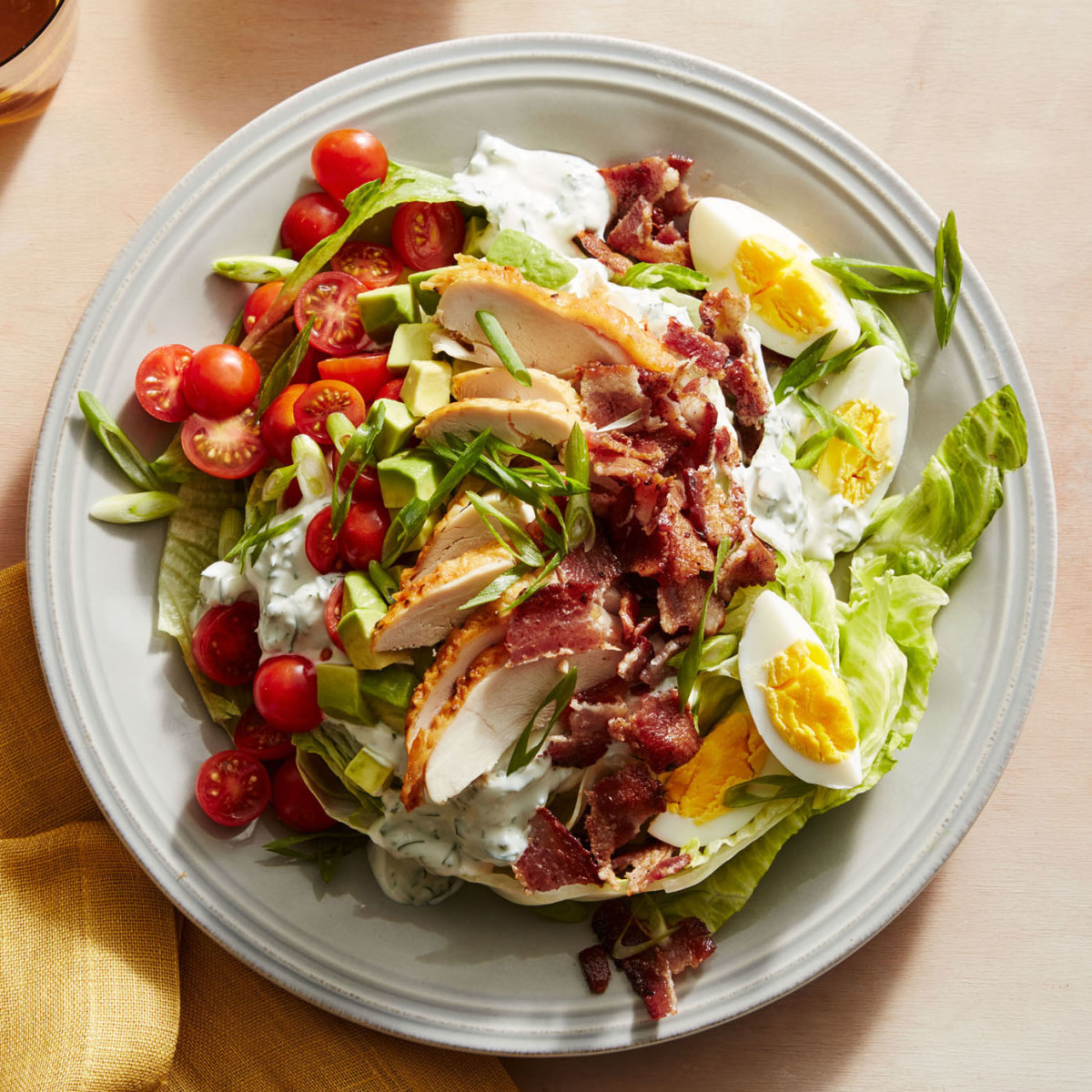 Ingredients
TOMATO GEL:
4 large tomatoes
1 medium sized cucumber
1 cup Nola Reduced Oil Salad Dressing
1/2 cup vodka
Pinch salt and black pepper
1 teaspoon gelatine powder
OLIVE CRUMB:
100g Kalamata olives stoned
1 cup olive oil
1 1/2 cups tapioca flour
CARROT / BEETROOT POWDER:
2 medium sized carrots or beetroot
CHEESE CRISP
1 cup grated white cheddar
¼ cup Nola Ultra Creamy
FETA MOUSSE
1/2 cup Nola Original
40 g soft feta
1/2 cup cream
ROAST CHICKEN BREAST:
1/2 cup Nola Reduced Oil Salad Dressing
2 chicken breasts skin on
1/2 lemon
2 tablespoons oil
salt to taste
black pepper to taste
CURED EGG YOLKS
4 large egg yolks, whole
300 ml flavoured oil or herb oil
¼ cup vodka
1/2 teaspoon salt
---
Cooking Instructions
TOMATO GEL
Place all the ingredients except the gelatine powder into a food processor and blend until it forms a purée. Pour the purée into a sieve lined with a cloth or filter, and place in the fridge for 4 hours to drip through to form consommé.
Place the gelatine into a small bowl with 1 tablespoon water and 1 tablespoon of the tomato consommé. Allow the gelatine to absorb the moisture.
Place the bowl of gelatine into a large bowl of hot water, stirring constantly until the gelatine dissolves into a smooth clear liquid. Whisk the gelatine into the tomato consommé and pour into a tray lined with plastic wrap. Set in the fridge overnight.
When ready to use, peel the jelly away from the plastic and blend until smooth. Place it into a disposable piping bag or squeeze bottle.
OLIVE CRUMB:
Place the stoned olives and oil in a food processor. Blend until it forms a fairly loose paste.
Strain through a fine mesh sieve into a mixing bowl and add the tapioca flour. Whisk very well until it starts to form a crumb-like texture – if it is still too wet add more tapioca flour.
Cover and store at room temperature or in the freezer.
BEETROOT POWDER:
Preheat your oven to 80°C and prepare a tray with non-stick spray. Boil the vegetables in salted water until soft, then cool in water. Slice finely with a mandolin or vegetable peeler.
Place slices onto the greased tray and leave in the oven for 24 hours, until very dry/crisp.
Once fully dehydrated place into a coffee grinder or food processor and blend until it forms a powder. Pass through a sieve, then cover well and store at room temperature until use.
CHEESE CRISP:
Preheat your oven to 180°C. Mix your grated cheese and Nola Ultra Creamy well before spreading evenly onto a well-greased oven tray. Place into the oven and let it bake until the cheese has melted and started to take on a brown colour.
Remove from the oven and peel away from the tray. Set aside and allow crisp to cool.
Once cooled break into shards and store in a well-covered container at room temperature.
FETA MOUSSE:
Place the feta and Nola Original into a bowl and whisk until smooth.
In a separate bowl whisk the cream until it forms soft peaks. Fold the cream into the feta and mayo mixture. Place into a squeeze bottle. Store in the fridge until ready for use.
CHICKEN BREAST
Preheat oven to 180°C. Remove the skin from the chicken and place onto a separate greased tray, season and roast until golden brown and crisp.
Lay the breasts onto an oven tray and squeeze the lemon juice over the chicken. Then, place all other ingredients onto the chicken, mixing and massaging into the meat.
Place into the oven and roast for 15-20 minutes until fully cooked, then remove from oven and allow to rest before breaking into large chunks and folding into roasting juices.
CURED EGG YOLKS:
Place the vodka, salt and oil into a small to medium sized bowl and whisk well.
Place the egg yolks carefully into the curing liquid, making sure that they are fully submerged in the liquid. Cover and store in the fridge overnight.
TO ASSEMBLE:
On your plate, dust your powder into a circle using a ring cutter. Dot your plate with the feta mousse around your powder, then place a mayo crisp in each dot of mousse. Pack your shredded chicken around the powder.
Lay torn pieces of washed lettuce leaves onto the chicken breast. Dot the plate with the tomato gel and spoon your olive crumb over and around the chicken.
Finally, carefully remove the cured egg yolk from the curing liquid using a teaspoon and gently place down onto the dust. Serve immediately.
---