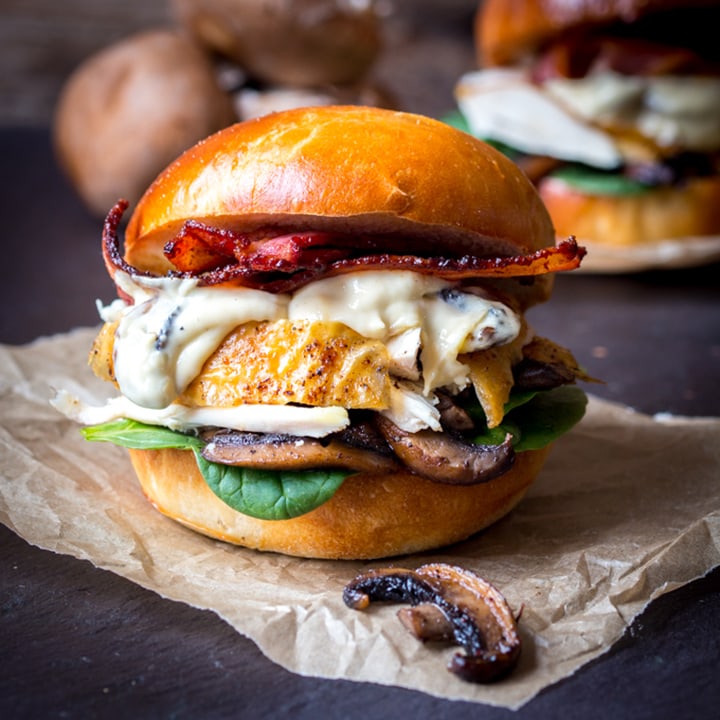 Ingredients
1 Ready2Go 125g schnitzel
1 burger bun, toasted
1 jalapeño, thinly sliced
1 handful mixed salad leaves (rocket,
iceberg, baby spinach)
2 slices tomato (thin)
1 large jalapeño, sliced
1/2 cup creamy mushroom sauce
Marvello Spreadable (for toasting bun)
FOR THE MUSHROOM SAUCE:
1 cup button mushrooms, chopped
30g Marvello Butter Flavour Margarine
1/2 cup Meadowland Classique
1 Tbsp. chopped onion
1 tsp crushed garlic
1 tsp fresh thyme
1 Tbsp. Nola Ultra Creamy
salt and pepper to taste
---
Cooking Instructions
FOR THE MUSHROOM SAUCE:
Heat the Marvello Butter Flavour Margarine in a
saucepan. Add the mushrooms to the pan with the
thyme and season with salt and pepper.
Allow the mushrooms to fry until golden brown then
add the garlic and fry until fragrant. Pour in the
Meadowland Classique and allow to simmer gently for
5-10 minutes until the sauce has thickened and cooked
through.
Bake the Ready2Go 125g chicken schnitzel in the oven
for approximately 20min at 180˚C.
Cut the bun in half and spread the Marvello Spreadable
Margarine evenly on the seeded burger buns and toast
until golden.
TO ASSEMBLE:
Spread about a tablespoon of the Nola Ultra Creamy
mayo on both bun halves.
Layer the sliced jalapeño, mixed salad leaves and tomato
on the bottom half.
Place the chicken schnitzel on top of the layers and
drizzle the mushroom sauce on top.
Serve with a side salad or potato wedges and extra
creamy mushroom sauce on the side. Enjoy!
---