Chocolate Celebration Cake
45 Minutes
Serves: 1 Cake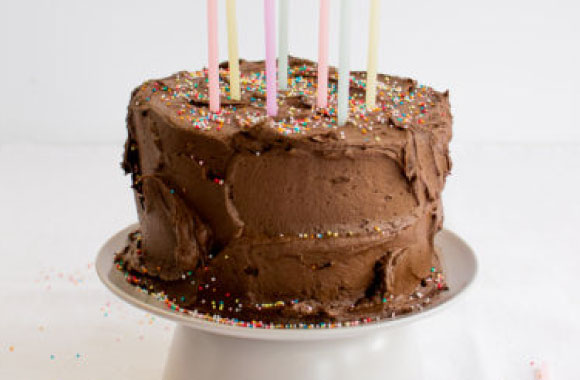 Ingredients
Sponge:
1 cup Selati Sugar
4 Eggs
180ml Water
5ml / 1 teaspoon Vanilla essence
125g Butter
250g / 2 cups Supreme Cake Wheat Flour
30g / 60ml Cocoa powder
5ml / 1 teaspoon Salt
10ml / 2 teaspoons Supreme Baking powder
Chocolate Buttercream:
170g Butter
1 cup Cocoa powder
5 cups Selati Icing sugar
½ cup and 15ml Milk
---
Cooking Instructions
Pre-heat oven to 180°C and grease and Supreme flour two 18cm cake tins.
Beat Selati sugar and eggs until fluffy.
Heat water, vanilla and butter.
Add to the egg and sugar mixture and mix until well combined.
Sieve all dry ingredients and add to wet ingredients mixture. Mix until well combined.
Pour evenly into the two prepared tins.
Bake for 30 – 35 minutes in the pre-heated oven, until an inserted skewer comes out clean.
Cool for 10 minutes before removing the cakes from tins to cool.
To make the icing:
Cream butter until light and fluffy.
Stir in cocoa and Selati icing sugar alternately with milk and vanilla.
Beat to a spreading consistency.
Split layers of cooled cake horizontally and cover the top of each layer with icing, then stack them onto a serving plate.
Ice the outside of the cake and decorate.
---