Chicken Schnitzel With A Basil Pesto Courgette Noodle Salad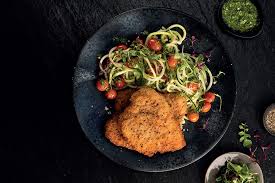 Ingredients
FOR THE SALAD:
300 g courgette noodles, lightly steamed
olive oil
100 g cherry tomatoes
1/2 clove garlic, crushed
salt and pepper
1/4 cup (60 ml) basil pesto
juice of 1/2 lemon
handful of micro herbs
FOR THE SCHNITZEL:
vegetable oil, for frying
2 chicken schnitzels
---
Cooking Instructions
Heat a little olive oil in a frying pan and add the cherry tomatoes and garlic.
Sauté for a couple of minutes or until tomatoes begin to blister.
Season with salt and pepper and remove from heat.
Toss together the courgette noodles, blistered cherry tomatoes, pesto and lemon juice until well combined and set aside.
Heat a little vegetable oil in a frying pan and fry chicken for about 3-4 minutes on each side or until chicken is golden brown, crispy and cooked through.
Serve chicken alongside the courgette noodle pasta and garnish with micro herbs.
---