Baked Alaska Bombe
SET YOUR DESSERT TABLE ALIGHT WITH
THIS MODERN TAKE ON A CLASSIC
SHOWSTOPPER.
SERVES 8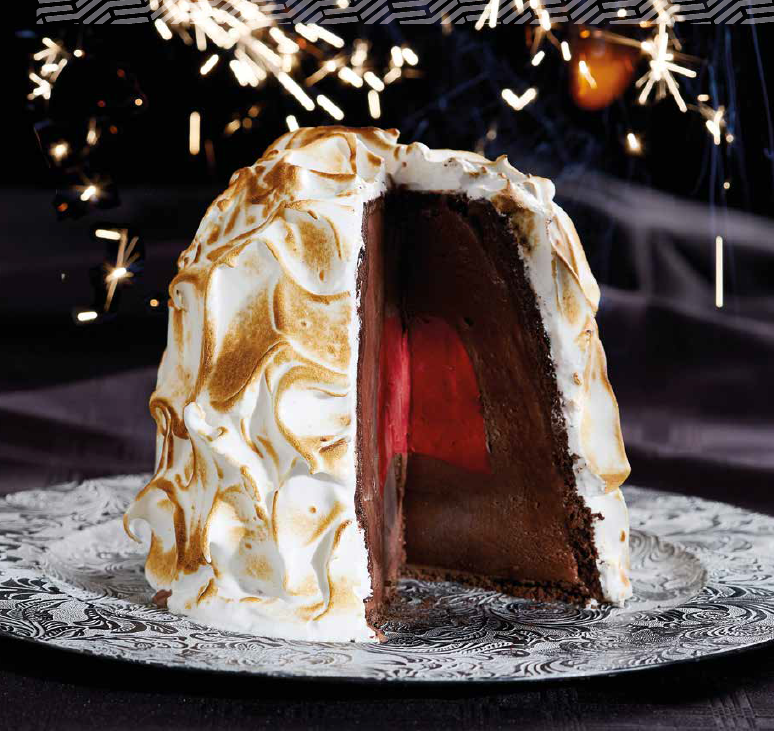 Ingredients
Chocolate Ice Cream:
1.5L cream
500ml milk
660g chocolate hazelnut spread
100g cocoa powder (sifted)
Chocolate Biscuit Base:
310g Supreme cake flour
50g cocoa powder
1 teaspoon baking powder
150g Selati castor sugar
140g salted butter, cut into cubes
1 large egg
1 large egg white
125ml store-bought raspberry sorbet
6 large egg whites (room temperature)
210g / 1½ cups Selati castor sugar
---
Cooking Instructions
To make the ice cream: Place the cream, milk, spread and cocoa powder in a blender and blend until smooth. Pour the mixture into 2 zip lock bags, lay them flat
in the freezer and freeze until solid – preferably overnight.
To make the biscuit base and dome: Place the flour, cocoa, baking powder, sugar and butter in a food processor and process until the mixture resembles coarse
breadcrumbs. Whisk the egg and egg whites together and add to the pastry mixture while the machine is running until the pastry just starts coming together.
Do not over mix! Immediately turn out the dough onto a piece of cling flim, flatten into a disc, wrap and chill for at least 1 hour.
Roll the dough to 5mm thickness between 2 sheets of cling flim. Choose a 2L ovenproof bowl or metal bombe mould that you'll use to set the bombe in then use
the same bowl to trace a circle of pastry (this will be the bottom of the dessert).
Transfer the disc to a large baking sheet lined with baking paper. Prick the pastry with a fork. Grease the mixing bowl well on the inside and use the remaining dough to line the inside of the mixing bowl to make a biscuit dome. Set the pastry disc and dome in the fridge for 30 minutes.
Pre-heat the oven to 180ºC and bake the pastry for 15 minutes.
Allow to cool completely then set aside. Place the pastry dome in a larger freezer-proof mixing bowl to make it easier to move.
Now get ready to assemble the bombe: Break the frozen ice cream mixture into pieces and place in a blender or food processor. Blend until smooth and creamy. Spread 1L of the chocolate ice cream inside of the pastry dome, then fill the centre
with raspberry sorbet.
Spread the rest of the chocolate ice cream over and place the biscuit base on top and freeze until solid – at least 3 hours.
When ready to serve: Prepare the meringue
by whipping the egg whites until soft peak stage.
Add the sugar gradually while whisking until the mixture is stiff and glossy.
Turn the biscuit dome out onto a serving plate or cake stand. Spread the meringue mixture over the outside of the dome, making sure to cover all the biscuit.
When ready to serve, use a blowtorch to toast the marshmallow.
Serve immediately.
---