Chicken Curry With Red Chilli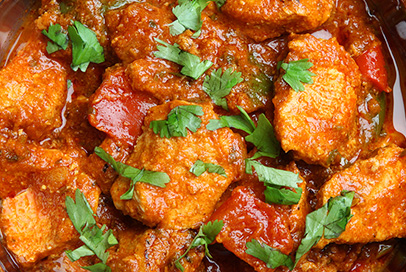 Ingredients
700g Rainbow Chicken's drumsticks and thighs (star pack)
300g potato, diced
150g onion, diced
80 ml sesame or peanut oil
2-3 red chillies, deseeded and chopped
3 tsp cumin, ground
1 tbs ginger, crushed
1tbs fish sauce
60 ml lime juice
50 ml tomato puree
2 tbs red masala, medium
200 ml coconut cream
300 ml chicken stock
½ cup coriander, chopped
4-6 curry leaves
---
Cooking Instructions
Place chilli, cumin, ginger, fish sauce, lime and masala into a dish.
Coat and massage the Rainbow chicken pieces in the mix and stand for 30 minutes.
Peel and dice onions and potatoes.
Heat sesame oil and lightly sweat the onions – remove from the pan.
Add the marinated chicken to the hot oil and brown evenly.
Add chicken stock, tomato puree, potatoes, onions and coconut cream to the pan.
Simmer on medium heat for about 40 minutes.
Add coriander and curry leaves just before serving.
Chef's Tips:
The chicken can be marinated and infused for up 2 hours before cooking.
Serve with basmati or jasmine rice, or toasted naan or flatbread.
---